10 Common Health Problems in the Elderly
Posted by Brian Shevel on 15 March 2018
Old age can often be accompanied by a cornucopia of complex health problems. Given all of the hot, trendy diet and exercise plans that are constantly emerging out of the woodwork, staying healthy and leading an active lifestyle to help stave off physical problems in old age has never been more difficult or confusing. One thing that a lot of physicians, dieticians, nutritionists, and physical health experts can all agree on, though, is that when it comes to your health, knowledge is power. Keep reading to learn all about the potential elderly health problems you could encounter as you get older.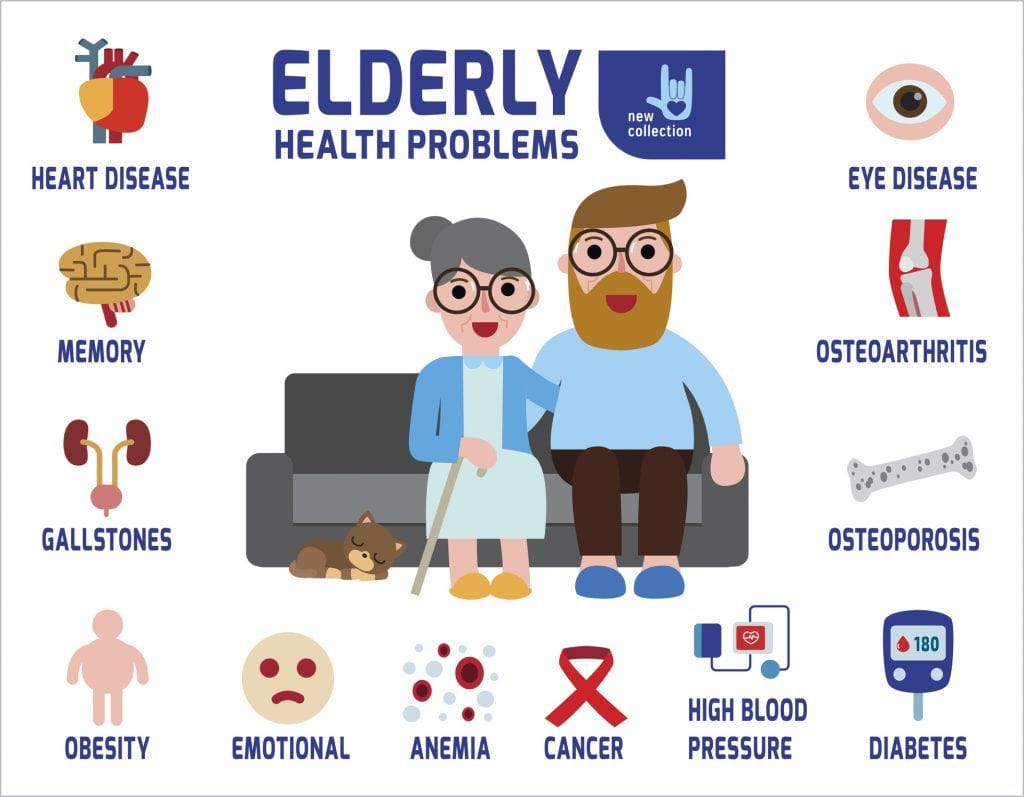 1. Heart Disease
Heart disease is one of the leading causes of death in North America for adults over the age of retirement. The older you get, the more your chances of developing heart disease increase. Risk factors include high cholesterol, high blood pressure, lack of physical activity, and continuing to eat an unhealthy diet full of trans fats. Maintaining a healthy diet, exercising a minimum of 30 minutes everyday and quitting or refraining from smoking is the key to reducing or completely eliminating your risk of developing heart disease.
2. Alzheimer's Disease
Alzheimer's disease is one of the most prominent variants of dementia. Statistics accumulated by the Center for Disease Control showed that in 2014, this disease claimed the lives of approximately 92,000 adults over the age of 65. As a matter of fact, gradual cognitive degradation and impairment is one of the most well-known ailments that plagues the elderly. Unfortunately, because Alzheimer's is a disease of the brain that doesn't have a lot of physical symptoms and can only really be detected based on behavioural signifiers, it's extremely difficult to diagnose. Consequently, the majority of Alzheimer's cases tend to remain untreated and undiagnosed.
3. Dementia
Dementia is comparatively a much broader disorder of the brain than Alzheimer's disease. As such, it's actually an umbrella term for a variety of cranial illnesses that include Alzheimer's disease, vascular dementia, Lewy body dementia, and mixed dementia, among others. Patients who suffer from dementia typically require 24-hour home care to help them cope with the extreme mental and physical symptoms of their illness and complete everyday tasks such as errands, household chores, and keeping social engagements.
4. Vision and Hearing Problems
The older you get, the chances of developing eye and hearing problems increases exponentially. Cataracts, glaucoma, diabetic retinopathy, and macular degeneration are among some of the more common diseases of the eye that elderly people face. Additionally, the instances of hearing loss can also increase as you age, especially if you happen to listen to a lot of loud music on a regular basis or work in a particularly noisy environment such as a construction site or airport.
5. Cancer
The risk of developing certain kinds of cancer also becomes more prevalent with age, especially if you subscribe to unhealthy lifestyle habits. Smoking, leading a predominantly sedentary lifestyle, and having a family history of cancer are among a series of mitigating factors that can lead to a cancer diagnosis.
6. High Blood Pressure
In most cases, high blood pressure is completely manageable as long as you make incremental changes to your diet and exercise habits. High blood pressure can increase your risk of suffering a heart attack or stroke and it can also play a key role in obesity rates. An effective way to manage and lower your blood pressure to an acceptable level for your body type and age is to reduce the amount of sodium and trans fats in your diet and boost your exercise routine or start one if you don't already have one in place.
7. Diabetes
Diabetes affects approximately 25% of the elderly population and was responsible for an estimated 54,161 deaths in North America in 2014. Although it's typically regarded as one of those old age diseases, diabetes can actually start earlier on in life. As long as it's detected as soon as possible, however, it's perfectly manageable.
8. Osteoporosis
Contrary to popular belief, osteoporosis isn't an unavoidable or normal part of aging. Yet, approximately 10% (1.5 million) of Canadians over the age of 40 were at risk of developing osteoporosis in 2009. Osteoporosis is actually quite preventable as long as you maintain a regular exercise routine complete with weight-bearing exercises to strengthen your muscles and bones and your body gets sufficient amounts of vitamin D from your diet and the sun. Absorbing high volumes of ultraviolet rays is dangerous for your health and can cause melanoma, but it's important to spend at least some time outdoors so your body can naturally make vitamin D.
9. Arthritis and Osteoarthritis
Arthritis and osteoarthritis are the degradation of the cartilage that lubricates your bones and allows them to move and bend seamlessly. Once they reach an advanced stage where all or most of the cartilage is dissolved, then the underlying bone can also begin to weaken and disintegrate. Symptoms include joint pain, stiffness, and inflammation. This condition typically affects the elbows, knees, hips, and even the thumb joints. It can be prevented with regular exercise and a healthy diet that includes sufficient amounts of calcium and vitamin D.
10. Falls
When you're young and healthy, falling down might not seem like such a big deal given that most people are able to dust themselves off and get back on your feet. Unfortunately, the same can't be said for people of advanced age. Oftentimes, if an elderly person suffers a bad fall, not only is it significantly harder for them to get back up, but the ramifications can be extremely detrimental to their health, resulting in severe disabilities, loss of independence, and even death. The risk of falling increases with age and that's why it's important to guarantee that your elderly loved one receives the proper care needed to either prevent this type of injury or ensure that someone is always by their side and ready to help them if it does happen.
If you're currently searching for "home care in my area" for your elderly loved one with no luck, then it's time to consider Home Care Assistance Toronto/York Region. Our comprehensive and high standard for hiring specially trained elderly caregivers ensures that your loved one will always be well taken care of and that they're in the right hands. Contact us today for more information.

Author:
Brian Shevel
About: I am originally from South Africa from a small city called Bloemfontein. After I completed my education, I went to work with my late-father who had a wholesale business selling clothes and shoes to retail stores around the country. I was in the business till I left for Canada in 1993. In Canada, I have run several businesses in a variety of industries. Although I experienced success, I missed helping people. I learned from my parents that helping seniors was important to their well-being and of great value to the community. Volunteer work remains a priority in my life. I am a past president of Bnai Brith and serve on many other committees.
Connect via:
LinkedIn