10 Summer Safety Tips For The Elderly
Posted by Brian Shevel on 21 July 2016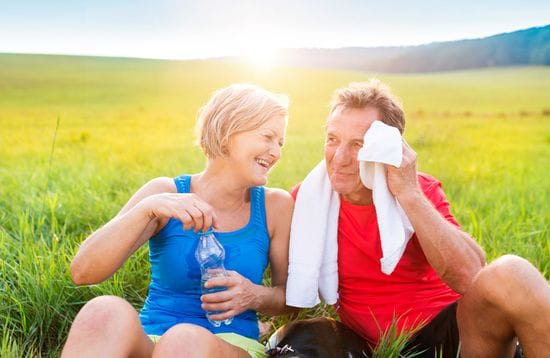 Summertime is one of the best times of the year for seniors. The good weather means they can be out and active more than any other time of year. However, the good weather also means seniors need to be careful. Overexposure to heat can be concerning to the health of seniors, even if they aren't venturing outside. With that in mind, we've compiled a list of some summer safety tips for seniors to follow for the remainder of the season.
Stay Hydrated
The standard for staying hydrated is to drink about eight or glasses of water a day. Each class should ideally be eight ounces. Seniors should aim for even more than that on days that are more humid.
Avoid Extreme Outdoor Heat
Toronto, in particular, is known for its humid summer days. For seniors, these are the days when walks can be skipped and focus should be on staying in cool places.
Wear the Right Stuff
Light clothing and light colours are best for summer. You want to stick to fabrics such as cotton, and cover up your arms and legs if you plan on spending extended periods of time outdoors.
Protect Your Eyes
Do not underestimate the strength of the sun. It can be damaging to your eyes if you're not wearing sunglasses. Even if you're only outside for a short time, sunglasses are a must.
Wear Sunscreen and a Hat
Sunscreen is crucial for protecting the skin from sunburn and possibly far worse conditions. Seniors should look for SPF 30 or higher for maximum protection. Hats are another option to protect the face, and they can even help in keeping you cool.
Apply Bug Spray
This is something many seniors forget to think about, but it is very important. Bugs are a nuisance and some also carry dangerous diseases. Keep yourself protected by applying bug spray.
Be Smart about How You Exercise
Yes, it is definitely important for seniors to get the proper exercise, but they must be smart about it. Summer heat can have some adverse effects on elders, so know how much to exert yourself.
Keep Your Home Cool
Air conditioners or central air exists for a reason. Use it often, and keep your home cool. This is probably one of the best home safety tips for seniorsfor everyone, really.
Take a Cool Shower or Bath
You'd be surprised just how much a cool shower or bath can lower your body temperature and keep you feeling cool. At least one per day should help.
Know the Signs of Heat Stroke
Despite doing your very best to follow all the summer safety tips, there is still a chance you can suffer from a heat stroke. Dizziness, headache, a flushed face, nausea, and a fast pulse are all signs of a possible heat stroke.
Home Care Assistance - Toronto/York Region wants all seniors to enjoy their summers. We also hope to keep seniors safe during the heat. Following these tips is a good first step. If you are looking for more ways to keep your loved ones safe this summer, give us a call at 905-597-5825. Our staff and caregivers are always prepared to answer any questions you may have.

Author:
Brian Shevel
About: I am originally from South Africa from a small city called Bloemfontein. After I completed my education, I went to work with my late-father who had a wholesale business selling clothes and shoes to retail stores around the country. I was in the business till I left for Canada in 1993. In Canada, I have run several businesses in a variety of industries. Although I experienced success, I missed helping people. I learned from my parents that helping seniors was important to their well-being and of great value to the community. Volunteer work remains a priority in my life. I am a past president of Bnai Brith and serve on many other committees.
Connect via:
LinkedIn