10 Symptoms of Mental Illness in the Elderly
Posted by Brian Shevel on 7 January 2015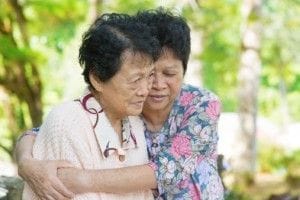 As we age, we spend a lot of time thinking about the physical changes to our bodies. However, we rarely give the same amount of thought to the mental changes. There is also an assumption that mental faculties will start to deteriorate as we get older, requiring mental disorder-based home care. But Toronto-area elderly needn't worry, as seniors remain cognitive well into their "golden years."
However, approximately 20% of adults over the age of 55 suffer from some form of mental health issue and only one in three receive treatment. Thankfully, mental health care for elders is one of the services an in-home worker can provide. Professional caregivers have the training and expertise to deal with the challenges that may arise from having an elderly loved one who is suffering from mental illness.
How to Spot Mental Illness in Elders
One of the easiest ways to determine if your loved one is suffering from mental illness is a sad or depressed mood that lasts longer than two weeks. And if they start to isolate themselves from social activities, this can be an additional sign of depression or another mental illness. If they seem to be more fatigued than normal or there are changes in appetite or weight, it is recommended that you seek medical help for them right away.
But mental health isn't all in a person's head; there may be
physical symptoms
, such as unexplained aches and pains or constipation despite a healthy diet. And if the person's
appearance changes
- for instance, someone who previously always dressed sharply and took care of their hygiene starting to neglect their appearance - this may be an indication of mental illness as well.
Depression
If your loved one recently retired, lost a spouse, contracted an illness, or had surgery, they may suffer from depression as a result. It can also be caused by genetic history and mood changes resulting from medication. In addition, depression can be magnified if the senior is living on their own. Symptoms can range from the aforementioned feeling a bit down to being
unable to cope with day-to-day life
.
If you're seeking treatment for this mental disorder, home care practitioners in the Toronto area often include caring for seniors suffering from depression as part of their services. These caregivers can really make a difference, as having someone else in their home to speak with can often be enough to alleviate the symptoms of depression.
Dementia & Alzheimer's Disease
Alzheimer's disease and dementia are declines in mental function that commonly affect seniors, impacting memory, cognitive abilities, concentration and perception. It's caused by the death of brain cells or damage to the parts of the brain that deal with thought processes.
Some of the symptoms of dementia and Alzheimer's include
restlessness
or
repetitive behaviour
; there can also be
mood changes
that can be difficult to deal with. That's why mental health care for elders should include not only working with patients with Alzheimer's and dementia, but also helping their families to cope.
As the leading provider of mental disorder home care in Toronto, Home Care Assistance Toronto/York Region provides highly trained workers at an affordable price. We have a number of resources available to help the families of seniors suffering from mental illness cope with the challenges that may arise and assist your loved one through a difficult time.
Source:
"Mental Health Later in Life," Mental Health Foundation web site; www.mentalhealth.org.uk/help-information/mental-health-a-z/o/older-people/, last accessed January 5, 2015.

Author:
Brian Shevel
About: I am originally from South Africa from a small city called Bloemfontein. After I completed my education, I went to work with my late-father who had a wholesale business selling clothes and shoes to retail stores around the country. I was in the business till I left for Canada in 1993. In Canada, I have run several businesses in a variety of industries. Although I experienced success, I missed helping people. I learned from my parents that helping seniors was important to their well-being and of great value to the community. Volunteer work remains a priority in my life. I am a past president of Bnai Brith and serve on many other committees.
Connect via:
LinkedIn