10 Warning Signs Your Aging Parents Need Help at Home
Posted by Brian Shevel on 2 June 2016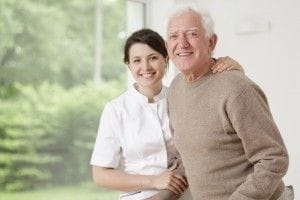 One of the most difficult things to accept is that your elderly parent needs help. You've looked up to them in some form for your entire life and they've been there to help you whenever you've needed it. So to think that they may not be able to perform simple day-to-day chores effectively may surprise you and even hurt you.
What's equally as challenging is noticing the signs. Little things you may be telling yourself are just "aging" or "not that serious" may actually be indicating that your parent needs some help. Identifying these signs is the first step in getting them the assistance they need so they can continue to live fruitful, independent lives.
Here are 10 of these signs that you should certainly be on the lookout for:
Spoiled Food That Doesn't Get Thrown Away:
Health concerns can compound fairly quickly with seniors. If spoiled food is in the refrigerator for weeks and even months, this is a telling sign.
Missing Important Appointments:
Appointments for seniors aren't meant to be taken lightly, even simple routine checkups. If they are missing these appointments, it could be a sign or memory problems or possibly something else. What's important is that you do something about it.
Unexplained Bruising:
This can mean so many different things. If you are noticing bruises and your parent can't explain them, it should be a concern.
Trouble Getting Up from a Seated Position:
When your parent is struggling to stand up after being seated, it's time to consider that they may need some assistance.
Difficulty with Walking, Balance, and Mobility:
One clear sign of your elderly parent needing some help is when walking becomes difficult. Whether they can only walk for very short periods of time or are having trouble keeping balance, this is an obvious indication that help is needed.
Uncertainty and Confusion Performing Once Routine Tasks:
This one may be a bit difficult to catch. You have to observe your parents on a normal day and watch how they handle tasks that you know for sure they should be able to manage. If they are not able to do those things anymore, then you need to take some action for their benefit.
Forgetfulness:
This doesn't refer to something like forgetting to take out the trash, but rather forgetting important details like your name or the name of a TV show you watch every day. This is definitely a telltale sign.
Unpleasant Body Odour:
When you notice that your parents are putting of a strong odour, it may indicate they are not taking care of themselves hygienically. They may be forgetting to bathe, or maybe they're simply not able to for whatever reason. Your job is to find out why and get them the assistance they need to do better.
Extremely Dirty House with Massive Clutter:
Maybe not to the hoarder level, but certainly more mess than you know they would normally be comfortable with. This is one of those easy-to-spot signs that help is needed.
Poor Diet and Weight Loss:
Aging doesn't mean you should be losing abnormal amounts of weight. Monitor your parent's diet for a week or so and figure out where they are going wrong. What anyone eats is important to their health, but this is magnified with seniors.
These are just general signs. You know your parents better than anyone, so if you feel that something is off, then it's likely true. In-home caregivers are a great solution to helping seniors with those "off" things and allowing them to focus on what they can actually do.
Home Care Assistance - Toronto/York Region
is here to help all seniors within our area get the in-home care they need.
Contact us now
if a parent or other loved one is exhibiting any of these signs.

Author:
Brian Shevel
About: I am originally from South Africa from a small city called Bloemfontein. After I completed my education, I went to work with my late-father who had a wholesale business selling clothes and shoes to retail stores around the country. I was in the business till I left for Canada in 1993. In Canada, I have run several businesses in a variety of industries. Although I experienced success, I missed helping people. I learned from my parents that helping seniors was important to their well-being and of great value to the community. Volunteer work remains a priority in my life. I am a past president of Bnai Brith and serve on many other committees.
Connect via:
LinkedIn