4 Key Responsibilities Of A Hospice Caregiver
Posted by Brian Shevel on 16 December 2016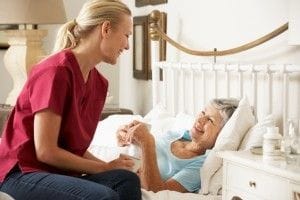 Hospice senior care at home gives seniors the support they need while dealing with a life-threatening condition. This support is given from more than just the physical perspective. Emotional support is also offered to seniors. This support is extended to the families of the senior who is suffering from the illness.
What is important to understand about a hospice caregiver is that they are not meant to replace the role of any of the family members. In fact, it's crucial that family be as involved as possible when caring for seniors enduring a serious medical condition. A hospice caregiver is there for additional support and to offer guidance regarding the resources that are available to the family.
The general duties of a hospice caregiver are can be described in the following manner:
Physical Care
Seniors suffering from life-threatening illnesses often can't perform many physical actions without assistance. Helping these seniors bathe and use the bathroom are some of the ways a hospice care worker can be helpful. Also, a hospice worker can help with food preparation and administering medication.
Emotional Care
This is one of the most significant benefits of hospice care. The emotional support offered by the hospice caregiver is shown through conversation, companionship, and just being present as another set of ears to listen to seniors as they do their best to manage the symptoms or inevitability of their illness. This is the type of support that is done in coordination with the family. It is the family who is the most important factor for seniors during hospice care, and any hospice caregiver understands they operate under the wishes of the family.
Practical Care
As difficult as it is to think about anything else during this time, there are often many practical matters that need attending to. Preparations need to be made in accordance to the senior's last wishes. There are also insurance matters that must be handled, assuming the senior is facing a terminal diagnoses. Even something as practical as paying the bills is something that a hospice caregiver can see gets done on time, along with managing family visits. These are factors that still directly relate to the senior even though they are not directly related to their care.
End-of-Life Comfort Care
Providing end-of-life care to a senior is a delicate matter. Hospice caregivers need to be sensitive to the mood and emotions of seniors going through this final stage. They also need to be supportive of family members who are forced to deal with the reality of losing a loved one. Caregivers are trained to make these last days as comfortable as possible for seniors. Balancing the needs of both the senior and their families can be challenging. By understanding the situation both are facing, hospice caregivers must try their best to show patience towards everyone involved.
Home Care Assistance Toronto/York Region is well aware of the challenges of hospice care. We are confident that our caregivers are able to carry out their duties in a manner that is sensitive and helpful to the families and the seniors enduring whatever stage of illness they may be.
If you are a family looking for
hospice senior care
in North York or a hospice caregiver in Newmarket, Home Care Assistance has you covered.
Contact us today
to learn more about how hospice care can help your family and loved ones.

Author:
Brian Shevel
About: I am originally from South Africa from a small city called Bloemfontein. After I completed my education, I went to work with my late-father who had a wholesale business selling clothes and shoes to retail stores around the country. I was in the business till I left for Canada in 1993. In Canada, I have run several businesses in a variety of industries. Although I experienced success, I missed helping people. I learned from my parents that helping seniors was important to their well-being and of great value to the community. Volunteer work remains a priority in my life. I am a past president of Bnai Brith and serve on many other committees.
Connect via:
LinkedIn