6 Ways To Keep Seniors Safe During Winter
Posted by Brian Shevel on 11 November 2016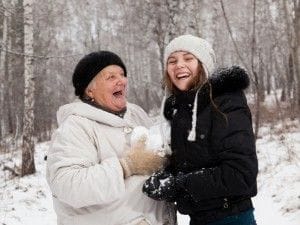 It may not feel like it now, but winter is coming. For most of us, that means winter jackets and long johns. However, senior care during the winter takes a bit more planning and effort. If you have experience caring for a senior, you know that winter brings its own set of necessary precautions. More than just the cold weather, the conditions brought on by low temperatures means that seniors' safety takes on a bit of a different meaning.
Knowing what threats are present and what steps to take to prevent any accidents is vital for senior winter care. We outline a few ways in which you can really step up your senior care this winter and keep your loved ones healthy and safe.
Use Space Heaters
Space heaters help keep seniors warm without draining too much energy. But it's important to follow a few rules when using space heaters. First, only plug into a wall outlet and not into an extension cord. Also, keep the space heater at least three feet away from any flammable objects, even if you think the chance of catching fire is remote.
Prevent Falls in the Home
Falls for seniors can be disastrous. So preventing them at any cost is paramount. During the winter, this means salting the staircase and driveway, making sure the railings are also free from frost, and when necessary, helping seniors get in and outside of their home.
Wear Proper Clothing
Seems like an obvious one, but it's important enough to mention. Dressing warm for seniors is important both outside and inside of the home. It's also important that seniors not spend copious amounts of time outdoors during those extra cold days Toronto is known to have every now and then.
Weather Strip the Home
Whether your senior loved one lives in an old home or a new one, weather stripping is something that should be done before the winter sets in full force. Check to make sure doors and windows are properly sealed and that no cold air is creeping into the home. Not only can that cold air cause seniors to become uncomfortably cold inside their own home, it will definitely increase the energy costs.
Stay Hydrated
Dehydration during the winter is more about the skin. The skin of seniors is more susceptible to becoming dry and cracked. To prevent this from happening, encourage them to moisturize daily and maybe even more than once a day if possible. Cracked skin can actually become aggravating, and possibly even painful, depending on where it's cracked.
Eliminate Potential Fire Risks
This involves walking through the home of your elderly loved ones and looking for anything that can potentially be hazardous. Make sure furnaces, fireplaces, and all vents are clear before actively using these appliances.
Get Expert Senior Care with Home Care Assistance
Home Care Assistance - Toronto/York Region knows what it means to care for seniors. It's what we do every day. If you have a senior relative and need some caregiving help during the winter, give us a call today at 905-597-5825.

Author:
Brian Shevel
About: I was born in South Africa in a city called Bloemfontein. Went to Christian Brothers College (CBC) finished High school there. I went into business with my father we had a wholesale selling cloths and shoes to retail stores around the country. I was in the business till I left for Canada in 1993. Was a past president of Bnai Brith and served on many other committees. In Canada worked in the computer software industry selling construction software. I was always involved helping the elderly as my mother was very involved and I went along with her. Also looked after my father as he aged. Helped as a volunteer with seniors.
Connect via: