A Caregiver's Guide To Alzheimer's Patients
Posted by Brian Shevel on 2 June 2017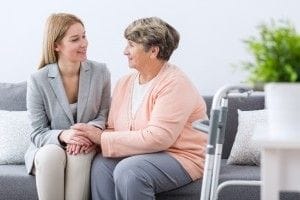 Caregiving for an Alzheimer's patient can be difficult, especially when you don't have a complete understanding of the disease. Home care for elderly people with Alzheimer's is imperative, since many of them are incapable for caring for themselves. Whether you've decided to take on the care of your loved one with Alzheimer's yourself or opt to hire senior care services, you should check out this guide to learn all you need to know about the disease, and the impact of Alzheimer's.
What Causes Alzheimer's Disease?
Researchers believe that the primary cause of Alzheimer's is a combination of genetics, lifestyle, and environmental factors that affect the brain over time. While the root cause is not yet fully understood, scientists do know that less than 5% of the time, Alzheimer's is caused by specific genetic changes that virtually guarantee a person will develop the disease.
Risk factors include age, family history, sex, and lifestyle. Alzheimer's is much more common in individuals over 60 - in fact, a person's chance of developing the disease doubles every decade after 60. Individuals are more likely to develop Alzheimer's if an immediate family member has the disease, and even more so if they have down syndrome - the extra chromosome that causes down syndrome is associated with an increased risk of Alzheimer's disease. Females have also been found to be more likely to develop the disease, largely because they have a longer life expectancy, and the older you are, the higher chance you have of getting Alzheimer's.
Is There a Cure for Alzheimer's?
Alzheimer's is the degeneration of brain cells and the inability for them to communicate effectively. While there's no official cure for the disease, the FDA currently has five approved medications to treat the symptoms. Four of the drugs they have approved work towards protecting healthy brain cells by slowing down the process that breaks down a key neurotransmitter. The last drugs aims to protect cells by regulating the activity of glutamate, which is what's released from damaged cells and can cause further damage to other cells.
What's the Prognosis for a Person with Alzheimer's Disease?
Alzheimer's is a progressive disease, which means that it gets worse over time; however, it's very possible for patients to enjoy their life after diagnosis, with visits from family and friends, listening to music, participating in physical activity, and doing other things that make them happy. According to the Alzheimer's Association, those who have been diagnosed at 65 years or older have a life expectancy about four to eight years post-diagnosis. However, some individuals with Alzheimer's live up to 20 years after they began to experience symptoms.
It's important for your senior loved one with Alzheimer's to be comfortable in their home, and hiring in-home care is one way to ensure that. Fortunately, Home Care Assistance - Toronto/York Region can provide home care services for your loved one with Alzheimer's. Our caregivers are experts in dealing with seniors with Alzheimer's and will give you peace of mind that your elderly loved one is well taken care of while you're away. Whether your senior loved one is in need of full-time live-in care, or just needs a companion for a few hours a week, we have the caregiving solution for you. Contact us today for more information.

Author:
Brian Shevel
About: I am originally from South Africa from a small city called Bloemfontein. After I completed my education, I went to work with my late-father who had a wholesale business selling clothes and shoes to retail stores around the country. I was in the business till I left for Canada in 1993. In Canada, I have run several businesses in a variety of industries. Although I experienced success, I missed helping people. I learned from my parents that helping seniors was important to their well-being and of great value to the community. Volunteer work remains a priority in my life. I am a past president of Bnai Brith and serve on many other committees.
Connect via:
LinkedIn