Alzheimer's Disease and its Treatments
Posted by Brian Shevel on 4 December 2014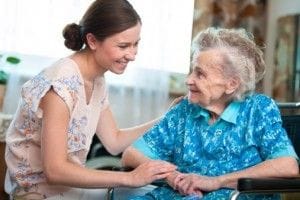 Alzheimer's disease is a degenerative disorder that commonly affects people over the age of 65, though some individuals may start to develop early onset Alzheimer's in their 40s and 50s. It is the most common form of dementia, with 60% to 80% of cases being Alzheimer's disease. The symptoms develop slowly and get worse over time, making Alzheimer's home care necessary for those suffering from it.
Alzheimer's and dementia are not a normal part of the aging process, and many seniors retain their full cognitive abilities well into their "golden years." However, even with proper treatment, it will get worse over time. Though scientists are working hard to find a cure, all an Alzheimer's caregiver can do for their patient is offer treatment. However, many treatments available can slow the progress of the disease and help the caregiver to take a lot of the pressure off the patient's family. Staying at home in a familiar environment can further slow the disease's progress.
Dietary Supplements
There is evidence that supplements such as herbal remedies can delay the effects of Alzheimer's. Herbal supplements have been shown to enhance memory, and caprylic acid is thought to provide an alternative energy source for the brains of Alzheimer's patients, who have lost the ability to break down glucose.
However, it should be noted that this evidence is purely anecdotal and is currently under research In addition, "alternative treatments" can have an adverse reaction if combined with other medications, so it is recommended that you or the caregiver consult with a doctor before starting on herbal supplements.
Behaviour
An Alzheimer's caregiver will recognize that the personality changes associated with the disease are a symptoma fact that family members may lose sight of. Changing the environment of a person with Alzheimer's can be detrimental; that is why it is recommended that they stay in a familiar environment, such as their home, for as long as possible. A caregiver can also teach family members the coping tips they need to deal with their loved one, such as not being confrontational, and providing solutions.
And remember not to take the way your loved one is acting personally; it's their illness that is causing them to act that way.
Medication
There are medications available that can slow the progress of Alzheimer's disease, and antidepressants and anti-psychotics can help with Alzheimer's symptoms. Combined with Alzheimer's home care, these can provide an effective treatment for the symptoms of Alzheimer's disease. However, it is strongly recommended that you consult with your physician before starting any medication.
Remember, Alzheimer's disease cannot be cured, but with the right treatments, the symptoms can be slowed.
Home Care Assistance - Toronto/York Region
can provide your loved one with a trained Alzheimer's caregiver who will be matched with them based on their needs. Contact us today to find out about the treatment options we offer.
Sources:
"What is Alzheimer's?" Alzheimer's Association web site;
www.alz.org/alzheimers_disease_what_is_alzheimers.asp
, last accessed December 2, 2014.
"Treatments for Behavior," Alzheimer's Association web site; www.alz.org/alzheimers_disease_treatments_for_behavior.asp, last accessed December 2, 2014.
"Alternative Treatments," Alzheimer's Association web site;
www.alz.org/alzheimers_disease_alternative_treatments.asp
, last accessed December 2, 2014.

Author:
Brian Shevel
About: I am originally from South Africa from a small city called Bloemfontein. After I completed my education, I went to work with my late-father who had a wholesale business selling clothes and shoes to retail stores around the country. I was in the business till I left for Canada in 1993. In Canada, I have run several businesses in a variety of industries. Although I experienced success, I missed helping people. I learned from my parents that helping seniors was important to their well-being and of great value to the community. Volunteer work remains a priority in my life. I am a past president of Bnai Brith and serve on many other committees.
Connect via:
LinkedIn