Assisted Living for Overweight Seniors
Posted by Brian Shevel on 6 September 2018
Obesity levels among seniors are becoming increasingly prevalent in Canada. The older people get, the harder it is to manage and maintain their weight. As the old saying goes, sometimes old habits die hard and without the proper care and assistance, it can be extremely challenging for seniors to eat healthy or even know where to begin when it comes to losing weight. Aside from tremendous weight gain that can deteriorate a person's self-esteem, obesity can also lead to a series of related health issues. Caring for obese elderly loved ones is never easy as you may sometimes feel like you're walking on eggshells trying to avoid being insensitive. What's even harder is finding a suitable and affordable caregiver that's capable of providing all of the physical and mental assistance your loved one needs to lead a healthy, independent, and fulfilling life. Rest assured knowing that they do exist! Here's everything you need to know about providing the right home care for your obese parent.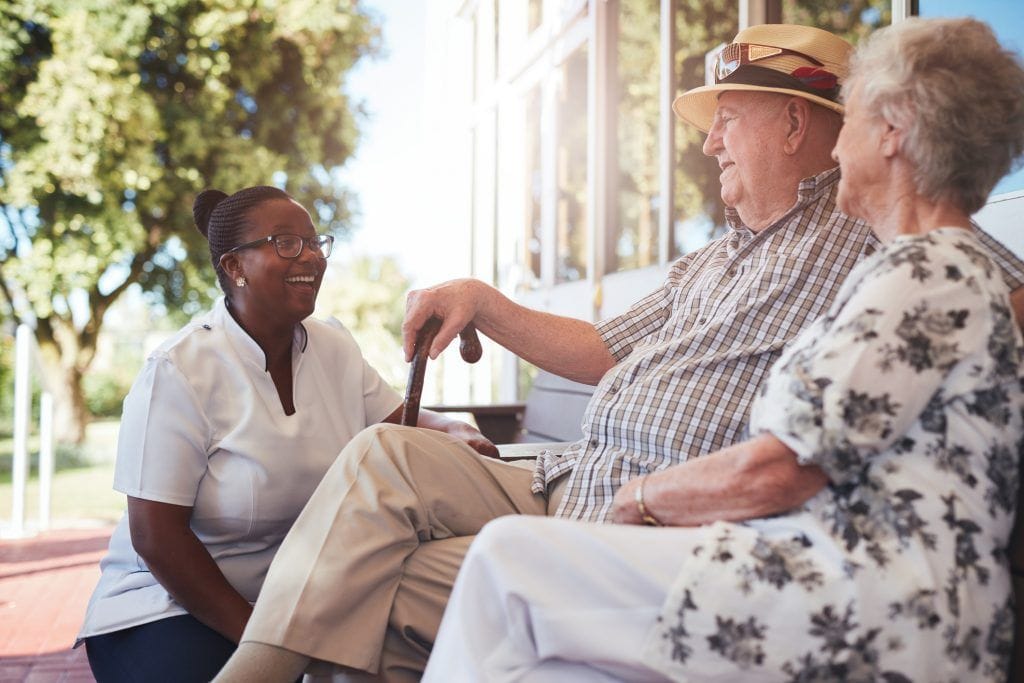 Obesity in Canadian Senior Citizens
Statistics about obesity in the elderly show that this is a steadily rising problem in North America, particularly amongst the elderly population. The problem is that the physical health and exercise routines of elderly people are largely neglected. In a lot of cases, senior care is expensive and unobtainable for some families.
When it comes to providing care for obese seniors, the problem can be much worse. Caregiving requires a great deal of physical assistance including helping the patient in and out of bed, helping them in the bathroom, and assisting them walking around the house. Many seniors have serious mobility issues and adding additional weight to that equation can make it extremely difficult for a caregiver to provide adequate care.
Another potential obstacle that could stand in the way of providing proper care for obese elderly people could be the equipment that's required in most cases. The fact is that it takes a great deal of specialized training for caregivers to be adequately prepared to care for their obese patients.
The Effects of Obesity on Day-to-Day Life
Obesity can have an adverse effect on a number of aspects of a person's life. Aside from making them feel bad about the way they look, it can also negatively impact their health. Many seniors may develop the following issues:
Unable to Move or Walk Independently
Limited mobility issues can be difficult enough as it is, but when the patient is obese on top of that, it can be even more difficult to handle. When seniors develop mobility problems and need assistance with walking around their house or being driven around, they might start to feel like they're losing their independence or that it's being taken away from them. You need to provide a caregiver that's specially trained in assisting obese seniors with mobility issues so that they don't feel like a burden.
Mental Suffering
Seniors who suffer from obesity could also have mental health issues. Overeating and lack of activity are sometimes symptomatic of mental health disorders, not to mention the fact that obesity can deteriorate a person's confidence.
Low Energy and Lethargy
One of the main side effects of extreme or gradual weight gain is having a lack of energy and feeling lethargic all the time. Ironically, this can be a cyclical issue because lethargy can cause you to gain weight but gaining weight can also increase your lethargy.
More Susceptible to Other Health Problems
Obesity is also related to other potentially serious health problems like hypertension, cardiovascular disease, high cholesterol, certain types of cancer, diabetes, gallstones, depression, anxiety, and difficulty breathing.
Why It's Difficult to Find Caregivers for Overweight Patients
As previously mentioned, it can be incredibly difficult to find adequate and appropriate care for obese elderly loved ones for the simple reason that they require an extra level of care that regular caregivers aren't always equipped to provide. Fortunately, there are a great deal of excellent resources at your disposal that can help you find the best care possible for your elderly loved one's needs. For your references, here are a few obstacles you might encounter when trying to find the right caregiver to care for your obese elderly loved one:
Required Specialized Nursing Home Equipment
When it comes to providing in-home or live-in care for patients of any caliber, one of the challenges faced by even the most professional and well-trained caregivers is not always having the much necessary access to certain nursing equipment that's only available in nursing homes. From motorized stair lifts to bedside commodes or shower chairs, there's a plethora of equipment that's often needed to care for obese seniors with limited mobility. Professional caregivers, however, will always find a feasible way of making the best out of every situation and use their critical thinking skills to make do with the resources they're given.
Finding the Right Caregiver
Hiring the right caregiver to look after your elderly loved one can make all the difference when it comes to enhancing their mental and physical health. Specially trained and capable caregivers can be hard to come by for obese patients, but there are those who are adept at helping obese elderly people improve and maintain optimal health.
It Can Be Expensive
Unfortunately, not everyone can afford to provide top notch care for their elderly loved ones. Organizations like Home Care Assistance Toronto/York Region can help you find specialized and affordable in-home part-time, full-time, or live-in care for your obese elderly loved one in need.
Our Home Care Assistance Services for Your Overweight Loved One
Whether your elderly loved one requires round-the-clock care of they just need someone to check in on them every once in a while, the renowned caregivers provided by Home Care Assistance Toronto/York Region are fully capable of providing the care they need. We can offer some much needed respite for you and your other family members by being there for your elderly loved one and providing them with personalized care. To learn more about our caregiving services, please feel free to contact us.

Author:
Brian Shevel
About: I am originally from South Africa from a small city called Bloemfontein. After I completed my education, I went to work with my late-father who had a wholesale business selling clothes and shoes to retail stores around the country. I was in the business till I left for Canada in 1993. In Canada, I have run several businesses in a variety of industries. Although I experienced success, I missed helping people. I learned from my parents that helping seniors was important to their well-being and of great value to the community. Volunteer work remains a priority in my life. I am a past president of Bnai Brith and serve on many other committees.
Connect via:
LinkedIn