Caregiver Tips: 4 Quick Ways To Reduce Caregiver Stress
Posted by Brian Shevel on 24 February 2017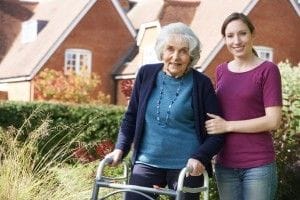 Caregiving can be a stressful responsibility, especially when you feel like you're on your own. It's easy to become overwhelmed with the duties of taking care of your loved one and forget about taking care of yourself sometimes, but it's important to remember how to manage your stress in order to properly carry out your caregiving responsibilities and for the sake of your own sanity. Here are some preventative measures and coping mechanisms you can use to deal with the stress of being an in-home caregiver.
Embrace Your Caregiving Choice
Once you've decided to act as a family caregiver, the most effective method to reduce your stress is to accept your decision. Being in denial about your decision or depending on it being a temporary arrangement can make you more stressed about daily activities. Fact is, your life will change and your daily routine will become completely different. Once you adjust to the change and accept your caregiving duties, you'll be able to embrace your new role.
Focus on the Things You Can Control
When acting as a caregiver for your senior family members, it can be easy to get discouraged. The key to remaining calm and positive is to focus on the things that you can control. Thinking about things outside of your control will increase your stress level since there's nothing you can do about them. Accept the things you can't change, and put your focus on those that you can.
Don't Be Afraid to Ask for Help
Even if you've chosen to take on the role of caregiver yourself, don't be afraid to ask other family members for help when you need it - there's no rule that says you need to do everything on your own. Delegate tasks and split up the work between your family members to make taking care of your elderly family member easier.
Realize When You're Stressed
To avoid caregiver burnout, try to realize when you're stressed and overwhelmed. Acknowledging when you need a break will not only benefit you but your care recipient as well. They can sense when you're highly stressed, and creating a tense environment for them won't be good for either of you. Don't hesitate to take a break when you need itwhether that involves a quick breath of fresh air outside, a long walk, or a few hours to yourself is up to you. Do whatever you need to do to relax before returning to your caregiving duties.
Has caretaking gotten the best of you? You're not the only one - tons of people find it difficult to balance their family, job, and taking care of an elderly family member, and that's where Home Care Assistance - Toronto/York Region can help. We offer quality, affordable caretaking services for families in the GTA. Whether you're looking for hourly care to give you a break in the evenings or live-in assistance, our trained staff will be able to help you. Contact us today for more information.

Author:
Brian Shevel
About: I am originally from South Africa from a small city called Bloemfontein. After I completed my education, I went to work with my late-father who had a wholesale business selling clothes and shoes to retail stores around the country. I was in the business till I left for Canada in 1993. In Canada, I have run several businesses in a variety of industries. Although I experienced success, I missed helping people. I learned from my parents that helping seniors was important to their well-being and of great value to the community. Volunteer work remains a priority in my life. I am a past president of Bnai Brith and serve on many other committees.
Connect via:
LinkedIn