Checklist: Preparing Elders And Their Caregivers For Emergencies
Posted by Brian Shevel on 13 January 2017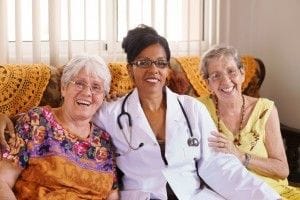 There's no doubt that seniors prefer living and being cared for at home rather than in an alternative care facility. Countless studies and surveys have concluded as much. With caring for seniors at home, however, the responsibility to ensure that they are safe and ready for any emergencies falls not only on the seniors themselves but on the caregivers as well.
You just never know what can happen. When dealing with seniors, the outcomes of any potential emergency becomes amplified because of their age and their health, especially if their health is compromised. Being prepared gives seniors a better chance of overcoming any emergency. Having a checklist for seniors in the case of any senior care emergency is vital to ensuring the outcome in these situations is positive.
Checklist for Seniors
While emergencies by nature are unpredictable, there are some general guidelines that can be followed. Including the following on a checklist for seniors is important not just for their health but to also help those around them.
Doctor's Contact Information
This information needs to be readily available. Not only is it a good idea to have the names, contact information, and specialities of each doctor your senior loved one is seeing, but this information should be put on a card for all family caregivers to carry. Emergencies don't only happen inside the home. They can happen anywhere at any time, and you want to be able to contact the right person should the time come.
Basic Financial Records
You want to list out the assets for your senior loved ones, in addition to the names and contact info for their financial advisors, lawyers, and any bank account information available. This is for the worst-case scenario, of course, but it's still important to have this prepared should you need it.
Healthcare Proxy
This is an important one. You want to have ready any papers or documents giving permission for you to make health decisions on behalf of the senior you are caring for. Without proof, it becomes difficult for doctors and other health professionals to make decisions about a senior's health in emergency situations.
Prepare an Emergency Kit
Your emergency kit should contain at least three days' worth of non-perishable foods, a flashlight, a battery-powered radio or TV, a first aid kit, extra clothing and blankets, a cellphone and a charger, and copies of all the forms mentioned thus far, including health cards and insurance papers.
Caregiver's Need to Be Prepared to Act
What's most important for caregivers is that they are prepared to act during an emergency. Having a checklist for caregivers of what's important is the first step, but being able to then function during emergencies is even more vital to having a positive outcome.
Staying calm is mandatory. As a
caregiver
, you want to be able to think clearly, and staying calm allows you the best chance to act according to your training. Remember that your focus is on the senior you are supporting. Take the time to assess what's happening and figure out the best course of action for helping the senior you are caring for. You may be their only voice and means of communicating what's wrong, so understanding the situation becomes even more vital.
Caregivers at Home Care Assistance - Toronto/York Region are trained and skilled at handling emergencies. They know that every second counts and will be prepared to support your senior loved one should an emergency present itself.
If you are currently caring for a senior in your family and can use some support, contact Home Care Assistance today at
(905) 597-5825
.

Author:
Brian Shevel
About: I am originally from South Africa from a small city called Bloemfontein. After I completed my education, I went to work with my late-father who had a wholesale business selling clothes and shoes to retail stores around the country. I was in the business till I left for Canada in 1993. In Canada, I have run several businesses in a variety of industries. Although I experienced success, I missed helping people. I learned from my parents that helping seniors was important to their well-being and of great value to the community. Volunteer work remains a priority in my life. I am a past president of Bnai Brith and serve on many other committees.
Connect via:
LinkedIn