CMA Pushes for New Healthcare Strategy for Seniors
Posted by Brian Shevel on 2 September 2015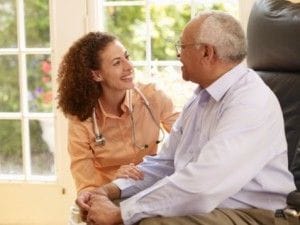 According to Dr. Chris Simpson, the head of the Canadian Medical Association (CMA), "addressing the growing health care needs of Canada's aging population is one of the most pressing policy imperatives of our time."
Dr. Simpson clearly sees the challenge that lies ahead. Baby boomers will likely need more medical attention as they are quickly becoming the most visible demographic in Canada.
But Dr. Simpson isn't waiting around for solutions. And judging by his 33-page policy guide, he doesn't feel Canada can afford to sit around and wait, either. The document addresses several areas in which the CMA needs to rectify, or completely overhaul, immediately. The document stresses the importance that all seniors should have a primary care provider and someone who can manage chronic care issues, along with suitable and professional home care providers. Dr. Simpson also calls for more support for family members who act as home care providers but who are not being paid.
Results Should Be the Focus
The contents of the document were discussed at the annual CMA meeting in late August. The CMA report suggests that the policy framework for seniors care needs adjusting if real changes are to occur. More specifically, the call for action includes:
Primary care: Specifically, making sure seniors have a primary-care provider.
Wellness and prevention: Ensuring that seniors have adequate food, housing and income and figuring out ways to prevent social and financial isolation.
Long-term care: More investments need to be made in infrastructure, to ensure a sufficient number of long-term care beds are available, especially for seniors with special needs.
Specialty care: Wait times for surgery need to be dealt with. The CMA is also looking into seniors who live in hospitals because they don't have anywhere else to go.
Home care support: Providing sufficient support for unpaid caregivers and home care workers.
Furthermore, the document suggests that not having the appropriate electronic health records across the board is an issue that needs to be settled. Electronic health records will improve access and efficiency when it comes to caring for seniors.
Home Care Can Help
Home Care Assistance - Toronto/York Region welcomes the challenge being presented. We want to be part of the solution for improving the health care system for seniors in this country. In fact, we've already taken steps to improve the services we offer.
We are dedicated to educating our caregivers so they have the right knowledge base to deal with seniors in different stages of care. From managing seniors with Alzheimer's to offering palliative care, our caregivers are capable enough, and sensitive enough, to provide a high level of home care for seniors.
Contact us today
for more information on how we've established a reputation for putting seniors first and giving families the peace of mind they're looking for.
Source:
Picard, A., "Canadian Medical Association urges health care strategy for seniors," The Globe and Mail web site, August 24, 2015;
www.theglobeandmail.com/news/national/canadian-medical-association-urges-health-care-strategy-for-seniors/article26087150/
.

Author:
Brian Shevel
About: I was born in South Africa in a city called Bloemfontein. Went to Christian Brothers College (CBC) finished High school there. I went into business with my father we had a wholesale selling cloths and shoes to retail stores around the country. I was in the business till I left for Canada in 1993. Was a past president of Bnai Brith and served on many other committees. In Canada worked in the computer software industry selling construction software. I was always involved helping the elderly as my mother was very involved and I went along with her. Also looked after my father as he aged. Helped as a volunteer with seniors.
Connect via: