Common Reasons And Preventions For Senior Falls
Posted by Brian Shevel on 13 April 2017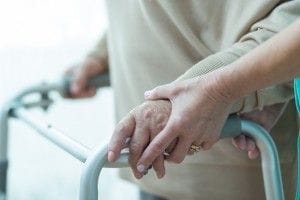 Tripping or falling may not seem like a big to you, but it can actually be fatal for seniors. Consequences of falls in the elderly can be severe depending on their existing health conditions. When caring for an elderly person, it's important to take note of the causes of the elderly falling and how to prevent them. Keep on reading to find out more about the prevention for falls in the elderly and how to handle falls in senior care.
Common Reasons Seniors Fall
There are a number of risk factors when it comes to why elderly people tend to fall. It may have to do with a pre-existing health condition, a health condition they may not be aware of, or it may be as simple as an accident. Regardless of the reason, elderly falls are not to be taken lightly - they should visit a doctor as soon as possible following their fall. Here are some common reasons why seniors fall:
Lack of Physical Activity
Little to no physical activity can result in poor muscle tone, decreased bone mass, loss of balance, and reduced flexibility. All of these implications can contribute to a higher risk of falling for your senior loved one.
Impaired Vision
Reduced vision poses an obvious risk: if your elderly loved one can't properly see their surroundings, they're bound to trip or fall over.
Diseases or Medication
Certain diseases and medications can cause weakness in the extremities, poor grip strength, balance disorders, and cognitive impairment.
Surgery
Recovering from a surgery can leave anyone at risk of falling, most of all seniors. Procedures like hip replacements can leave an elderly person weak, in pain, and less mobile than they were before.
Environmental Hazards
Did you know that one third of all senior falls involve at-home hazards? Poor lighting, loose carpets, and lack of safety equipment all contribute to this statistic.
How to Help Prevent Your Elderly from Falling
You'll be glad to know there are some measures you can take to lower seniors' risk of falling:
Physical Therapy
To avoid your elderly loved one falling, enrol them in physical therapy. This will make their muscles stronger and encourage them to participate in regular physical exercise to maintain their muscle tone.
Medical Treatment
If the cause of your elderly loved one's falls has to do with a medical condition, talk to your doctor about a plan of action. They may be able to change or give them new medication to reduce their risk.
Environmental Management
Make your home a safe place for your senior. Secure all loose carpet ends, keep stairways well-lit, and keep most of your furniture against walls. Keeping your home well-lit and open concept, with minimal obstacles will help keep your senior safe from falls.
If you're concerned about the safety of your elderly family member and would like peace of mind when you're not around, call Home Care Assistance - Toronto/York Region today. Our team of passionate and experienced caregivers will be glad to assist you with your family's care plan. Whether you're looking to have full-time, live-in care or someone to accompany your senior for a few hours each day, we have the solution for you. Contact us today to learn more about our services and how we can help your family.

Author:
Brian Shevel
About: I am originally from South Africa from a small city called Bloemfontein. After I completed my education, I went to work with my late-father who had a wholesale business selling clothes and shoes to retail stores around the country. I was in the business till I left for Canada in 1993. In Canada, I have run several businesses in a variety of industries. Although I experienced success, I missed helping people. I learned from my parents that helping seniors was important to their well-being and of great value to the community. Volunteer work remains a priority in my life. I am a past president of Bnai Brith and serve on many other committees.
Connect via:
LinkedIn