Conversation Starters For Seniors With Dementia
Posted by Brian Shevel on 7 February 2018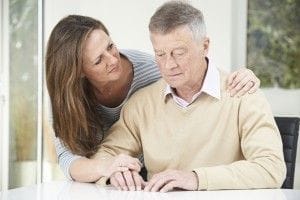 Caring for a senior with dementia is no small task, especially when they're close to you; seeing a loved one head down the path of dementia is never easy. When acting as a caretaker for an elderly person, it's important to create a dementia care plan to ensure their mind stays active so they can retain their memory and cognitive skills for as long as possible. Interacting with them frequently by having conversations that pique their interest is one dementia care strategy you can use to keep their mind active. If you're struggling to think of things to do with your dementia patient, check out these simple yet effective activity ideas that seniors suffering from dementia are bound to enjoy.
Dementia and Communication Strategies
Two of the main effects of dementia is the loss of memory and disorientation. The best way to fight the degeneration of your senior's memory is to keep their mind active and focus on stimulating them cognitively. How can you achieve this? Simply having a conversation with them can exercise their mind and encourage them to use their memorythis will help them retain their memories for longer. Having a conversation sounds simple enough, but when it comes to actually thinking of things to talk about, it can be a bit of a struggle. Luckily, we've come up with a number of tips to foster a free-flowing conversation with your senior.
12 Interesting Ways to Talk with Dementia Patients
Look at Photographs
Looking at photographs from years ago can remind them of times they may not have thought about much in a while. This will force them to go back in time in their mind and will likely dredge up some other memories too. Pictures and videos are a great way to pique their interest, and a conversation about what was going on at that time can arise naturally.
Do Art Together
Regardless of whether your senior loves to do art or hasn't tried their hand at it as yet, doing art together can be a great way to bond and create conversation. Doing a new art project together each week can spark a sense of creativity within them and give them a renewed sense of self. Not to mention, it'll give you both a great opportunity to talk about your projects, what you think of each other's, and what else you plan on doing.
Watch TV Together
Watching TV together may sound counteractive, but sharing a common interest in a show is a good way to encourage conversation if you haven't found any other common ground. Keeping up with a TV show and discussing it whenever you watch is an awesome opportunity for your senior to have some social interaction.
Play Board Games
Board games like Scrabble are another great way to exercise your senior's mind. It'll make them think harder than they usually have to and will challenge them in a new way. Helping them form new words using games like this can even enhance their vocabulary and serve as a bonding activity for the both of you.
Read Together
You don't necessarily need to read the same book to have a little book club discussion. You can both read your respective novels and reconvene and talk about what's happening in each of your books. If you do decide to read the same book, talking about your differing perspective on the same topic can offer a new insight to your senior, and provoke deep thinking.
Listen to Music or Sing Together
Think about the hits and songs that you may have heard in your childhood and adolescence. Certain songs hold poignant associations that can transport you across the years. Consider songs from the era of your senior loved one's youth or you could also look for more contemporary songs that you find on the radio. Try to stimulate memories by mentioning the artist or song name, and engage in singalongs to truly enjoy the moment.
Remember the Good Memories
One of the most powerful ways to give life meaning and reframe situations around the positive is to look back at good times from the past. Reminisce about the good old days, past loves, glory days, and other memorable events that stand out. Don't hesitate to enjoy telling and retelling the same anecdotes over and over again. If you hear stories that are repeated, try to enjoy them as though you were hearing them for the first time. Be an engaged participant in order to stimulate a feeling of excitement.
Laugh Together
Nothing brings people together like shared laughter. Make light of situations in order to find the silver lining in each moment. Be wary of any forms of humor that might make your loved ones uneasy or self-conscious. You want to distract them from any painful personal situations that arise. You want to bring back memories and allow them to be entertained within their own comfort zone.
Speak Clearly
Using the simplest words and phrasing will allow for the easiest communication. You may want to slow your speech down in order to ensure that you are being properly understood. Remember the old adage, "Slower is faster." Avoid being patronizing in your tonemaintain the same respectful manner that you would use with anyone else.
Look and Listen Carefully
First ensure that you have their full attention. Give them time until you see recognition in their eyes. Make sure you are near enough to hear everything that they have to say. Maintain a relaxed demeanor in order to put them at easeremember that much of communication is nonverbal. Use active listening techniques like nodding or repeating their own words back to them in order to demonstrate that you are engaged.
Keep It Simple
Trying to achieve too much, too soon is always a recipe for frustration and disaster. Manage the situation by keeping conversations and interactions as simple as possible. Over time, you will be amazed by how much easier and lighter the mood feels because you are approaching everything in a relaxed manner, with no expectations. This will allow you to free yourself from unneeded stress and to make continual progress in a positive direction.
Questions to Ask Someone with Dementia
Remember the old neighborhood, what it was like?

Do you remember helping out with cooking or other chores in the household while growing up?

Kids today need to get out more. What were some of the activities, sports, and hobbies you had when you were younger?

The city/town sure was different decades ago. Do you ever notice how so many prominent features have changed with time and development?

I just got back from a vacation/business trip aboard. Tell me about the cities and places you visited?

I had a really tough day at the office. Tell me about the challenges and highlights of your career?

How did you meet your spouse/significant other? Do you remember how you first started talking and hit it off?

Who are your favourite family members among your siblings, parents, aunts, uncles, nieces, nephews, grandchildren, and grandparents?

Tell me about your dog/cat that you used to have?

What are your favourite books, comic books, or magazines?

Did you have any interesting detours in your life, like unexpected events, living through economic depression, natural disasters, wars, etc.?

What were your favourite and least favorite subjects/teachers in school/college/university?

What are the things you do today that make you happy?

Tell me about the greatest moment in your life that you experienced?

Tell me what kinds of TV shows and movies you enjoyed the most?

Respite Care for Elderly with Dementia in Toronto
Caring for a senior with dementia is a taxing job, and you shouldn't have to bear the burden alone. Fortunately, Home Care Assistance - Toronto/York Region is here to help. We have a team of trained, experienced, and compassionate caregivers who would be more than happy to assist you with your caretaking needs. Whether you're looking for full-time live-in care or just help for a few hours a week, we have the solution for you. Contact us today to relieve some of the caretaking stress in your life.
The following two tabs change content below.

Author:
Brian Shevel
About: I am originally from South Africa from a small city called Bloemfontein. After I completed my education, I went to work with my late-father who had a wholesale business selling clothes and shoes to retail stores around the country. I was in the business till I left for Canada in 1993. In Canada, I have run several businesses in a variety of industries. Although I experienced success, I missed helping people. I learned from my parents that helping seniors was important to their well-being and of great value to the community. Volunteer work remains a priority in my life. I am a past president of Bnai Brith and serve on many other committees.
Connect via:
LinkedIn