Creative Way to Engage Seniors
Posted on 24 May 2019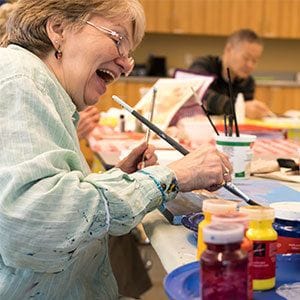 The weather is getting warmer, it is a lovely Saturday, and you stumble upon a great way to spend the afternoon: Let me visit my parent today! Your concern, however, is "What will today's topic of conversation be? What can we talk about? What will prompt them to speak?" You noticed that from the previous visits, your parent is talking less and they seem unmotivated despite how much you try to encourage them.
Many individuals experiencing symptoms of Alzheimer's may be engaging less in conversation and they may seem to be discouraged from participating in activities that would otherwise have a tremendous impact on their quality of life. Yet, it is important to be resilient and keep trying to come up with ways to have your parent express their thoughts, emotions, and feelings - whether it be through words, art, exercise, singing, dancing, knitting, or play.
Last week, we visited a retirement home and spent the beautiful afternoon with elderly residents who had Alzheimer's and were experiencing the symptoms of Dementia. We knew from our previous visits that they did not like to engage much in conversation and they had a difficult time participating in activities regardless of how much they were being prompted to do so. Bearing this in mind, we decided to get a tad bit creative with our visit this time by incorporating art and play.
The results we witnessed were absolutely astonishing! The same individuals who were having a difficult time expressing themselves through words and engaging in conversations were the same individuals who were getting super creative and unleashing their creative and artistic abilities. It is important to recognize that engagement is engagement and expression is expression regardless of how we choose to communicate them. It can take on many forms and does not always have to be limited to conversation. If you are finding that it is difficult to speak with your family members that have Alzheimer's, consider ways to get creative so that they can still be engaged and participate in activities even if they no longer show much interest in having a conversation. Use our success story as an example!
How did we do this? Simple.
We will provide you with the materials and instructions to ensure a fun afternoon with your parent.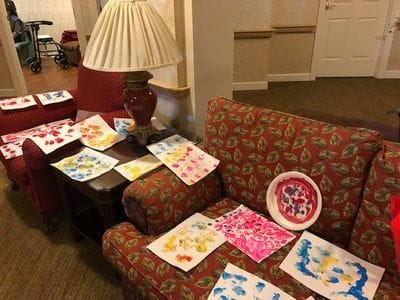 Materials:
- balloons
- paper
- paper plate
- paint [3-4 colours]
- gloves
Instructions:
1. Wear your gloves!
2. Squeeze the paint tubes into a paper plate
3. Slightly blow into the balloon until it resembles the size of a pear.
4. Take the balloon and dip it into the paint
5. Stamp the balloon onto the paper
6. Get creative! Make patterns, use different colours, and showcase your art!
7. Most importantly, have fun!
At Home Care Assistance, we are dedicated to improving the quality of life of seniors. We serve all areas of York region, including Vaughan, Markham, Richmond Hill, Newmarket, Aurora, North York, Stouffville, Woodbridge, and Thornhill. Aside from our excellent and professional live-in and hourly services, we also love spending time with seniors at retirement homes to engage them and make them more motivated to participate in activities and conversation.