Diet For The Elderly: 8 Healthy Eating Tips For Seniors
Posted by Brian Shevel on 17 February 2017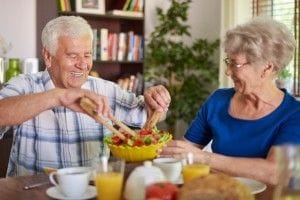 One of the most important habits for seniors to keep up in order to maintain their livelihood is healthy eating habits. A healthy senior's diet will not only have a ton of nutritional value, but it can help them feel better about themselves, which will work to improve their overall health.
Simplicity and Balance
They key to creating a successful diet plan is to make one that's easy to maintain, and that has a good balance between meat, carbs, and vegetables. Each diet can be modified to suit the specific dietary needs of each senior. A diet plan like Weight Watchers, where the daily intake allowance is calculated by age, weight, height, and sex, and remains constant, can be considered a simple diet plan. Seniors won't be restricted to one type of food, and will have a little leeway when it comes to choosing what they want to eat - this will make it easier for them to stick to their diet plan without overeating.
Heart Health and Diabetes
Including lots of heart healthy foods is especially important for seniors. Cutting down on high-fat foods that promote heart disease, and including more healthy proteins like fish, eggs, lean chicken, and tofu in their diet plan will help keep their heart healthy. Also cutting back on sugary foods that lack nutritional value will decrease the chances of diabetes.
Fruits and Veggies
Optimal intake of fruits and vegetables is important to get the right amount of fibre in your diet. Constipation becomes more common as we age, so it's important to keep up with fibre consumption to prevent this from happening, and keep our bowels active. Fibre can also help control glucose and cholesterol levels, making it all the more important to remember your fruits and veggies!
Read the Nutrition Facts Label
The healthiest foods are whole foods! These are most often found on the perimeter of the grocery store in the produce, meat, and dairy sections. However, avoiding packaged food altogether can be tough, so be a smart shopper when you purchase them. Always read the labels to find products that are lower in fat, added sugars, and sodium.
Use Recommended Servings
Sticking to the recommended servings can help prevent overeating. This is especially important when partaking in indulgent foods - everything in moderation!
Make Meal Planning and Preparation a Fun Experience
In order for seniors to want to keep up with their diet, they'll have to enjoy meal planning and food preparation. Regardless of what type of diet they're on, preparation will be a necessary step. Making it fun and enjoyable will encourage them to keep up with their seniors diet plan,
If you're looking for the best care for the senior member in your family, look no further than Home Care Assistance - Toronto/York Region. Our highly-trained caretakers can create the perfect meal plan for you loved one to keep them happy and healthy. Whether you're looking for a live-in caregiver or hourly help, we have the caretaking solution for you. Call us today at (905) 597-5825 to learn more.

Author:
Brian Shevel
About: I am originally from South Africa from a small city called Bloemfontein. After I completed my education, I went to work with my late-father who had a wholesale business selling clothes and shoes to retail stores around the country. I was in the business till I left for Canada in 1993. In Canada, I have run several businesses in a variety of industries. Although I experienced success, I missed helping people. I learned from my parents that helping seniors was important to their well-being and of great value to the community. Volunteer work remains a priority in my life. I am a past president of Bnai Brith and serve on many other committees.
Connect via:
LinkedIn