Do's And Don'ts Of Communicating With Seniors
Posted by Brian Shevel on 21 April 2017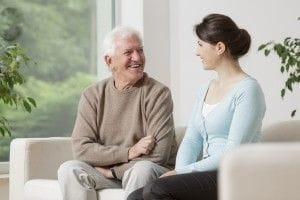 Communicating with seniors can be a struggle at times, especially if it's not something you do on a regular basis. Starting a conversation can be a job in itself and holding it is yet another hurdle. It takes different techniques and a little extra effort when thinking about what to say to seniors and what not to say to seniors, but the work is well worth it when you're able to foster a meaningful conversation. If you're interested in learning how caregivers can communicate with seniors more effectively, check out this list of tips on effective communication with the elderly.
How to Communicate Effectively with Seniors
Limit Cellphone Use Around Them
In a day and age when technology is readily available at everyone's fingertips, it's easy to imagine how frustrated seniors can get with people that are constantly on their phones around them. Smartphones and the Internet aren't something they grew up with, and they're likely a difficult concept for them to grasp - even more so for those who suffer from diseases like dementia and Alzheimer's. When thinking about how to talk to the elderly, set your phone aside while you're with them and focus on your face-to-face interaction. This will put them at ease and signal that you're actually interested in speaking to them.
Be Patient
Another important communication tips for caregivers is that you need to remember to be patient at all times. While it can be frustrating to try to hold a conversation with a senior who has a hard time remembering or has difficulty articulating their thoughts, do your best to remain patient. Keep in mind it's not their fault and that rushing them will only make them more confused.
Tone Matters - Ask Instead of Order
Even though your senior loved one may suffer from dementia, it doesn't mean that their perception of your feelings is off. They're able to sense when you're frustrated and angry, and it'll only serve to upset them too. When asking them to do something, remember to ask not demand. Ordering them around and telling them what to do will make them feel like a child. So, be conscious of your tone and how you speak to them on a daily basis.
Have Conversations about Things That Interest Them
Presenting topics that your senior loved one takes an interest in can help you foster good conversations with them. You'll notice that they'll be more passionate, upbeat, and overall more willing to speak to you when they're interested in the topic at hand. This can even improve your bond with them as conversation will flow more freely.
Stick to Your Boundaries
In the same way that you know what your client expects from you, your client should know what you expect from them. Being firm in your boundaries will help you perform your duties better, and keeping a clear line between what's appropriate and what isn't will avoid blurred lines with your senior. Making yourself clear with what you're comfortable with beforehand is always a good idea for avoiding uncomfortable situations.
Look to Home Care Assistance for Your Senior Care Needs
If you need help when it comes to caregiving for the senior family member in your home, call Home Care Assistance - Toronto/York Region. Our team of experienced caregivers will me happy to provide your family with the help you need - whether that entails full-time, in-home care or just a few hours a week is up to you. Call us today to learn more about our

Author:
Brian Shevel
About: I am originally from South Africa from a small city called Bloemfontein. After I completed my education, I went to work with my late-father who had a wholesale business selling clothes and shoes to retail stores around the country. I was in the business till I left for Canada in 1993. In Canada, I have run several businesses in a variety of industries. Although I experienced success, I missed helping people. I learned from my parents that helping seniors was important to their well-being and of great value to the community. Volunteer work remains a priority in my life. I am a past president of Bnai Brith and serve on many other committees.
Connect via:
LinkedIn