Elderly Care Assistance after Hospital Discharge
Posted by Brian Shevel on 2 December 2015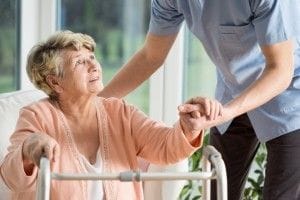 Caring for seniors often comes with a unique set of challenges. Because of their age, doctors must always take extra precaution while seniors are under their care in the hospital. But often those same safety measures aren't carried on after seniors are discharged. However, elderly care post discharge is just as important as it is during their hospital stay.
Because of this disconnect, as many as 20% of seniors return to the hospital within the first 30 days of being released. Experts are analyzing why this number is so high but hypothesize that much of it has to do with the care seniors are receiving at their homes.
Dealing with Post-Hospital Syndrome
One of the theories as to why so many seniors are returning to hospitalsoften with illnesses unrelated to their original stayis something called post-hospital syndrome. When seniors are being cared for in a hospital, there are several new factors being introduced to their routine. This is apart from whatever surgery or procedure they had to undergo and the toll that takes on the body.
Seniors also deal with being given new drugs, interrupted sleep patterns, far less activity due to being restricted to a bed. All of these factors, combined with the impact of the main reason they were hospitalized in the first place, lead seniors to have a difficult time reconnecting to their daily routines once they leave the hospital.
How Elderly Home Care Can Help
The transition from being hospitalized to entering back into the home is not an easy one for most seniors. But getting the assistance with an elderly home care service can help make this transition a lot more positive and less stressful. There are steps and strategies that can be put in place to allow for a better chance of a successful recovery at home.
Start with the Basics
Feeding, hydrating, and resting: These are the cornerstones of what should be priority for everyone. But for seniors just returning home from the hospital, these variables play a much bigger role in their recovery. The immune system is presumably at its weakest and needs all of the help it can get. This help comes in the form of proper nourishment and getting enough rest. Allowing some room for physical activity (if possible) is another important factor. The benefits that come with less than an hour of daily physical activity can go a long way in helping seniors regain their health.
Take It Slow
This should go without saying, but caregivers need to be able to discern what seniors are capable and incapable of after being hospitalized or else the results can be dangerous. Activities such as driving or taking walks alone should be monitored before actually giving seniors the go-ahead to engage in them.
Caregivers should also be monitoring seniors for any potential illnesses or ailments once they have returned home. It should be assumed that their immune systems are temporarily weakened, so noticing rashes or the onset of a cough are factors that must be watched carefully. It's also a good idea keep away visitors who are sick or have recently been sick.
There's so much to consider when transitioning a senior from a hospital to the home. With the proper elderly care services, however, this transition can go a lot more smoothly. Caregivers at
Home Care Assistance - Toronto/York Region
are trained professionals. We know what to do and what to look for to keep your loved ones safe and comfortable.
For more information on our home care services, contact us today.

Author:
Brian Shevel
About: I am originally from South Africa from a small city called Bloemfontein. After I completed my education, I went to work with my late-father who had a wholesale business selling clothes and shoes to retail stores around the country. I was in the business till I left for Canada in 1993. In Canada, I have run several businesses in a variety of industries. Although I experienced success, I missed helping people. I learned from my parents that helping seniors was important to their well-being and of great value to the community. Volunteer work remains a priority in my life. I am a past president of Bnai Brith and serve on many other committees.
Connect via:
LinkedIn