Exercise Tips for Elderly Cardiac Patients
Posted by Brian Shevel on 18 February 2016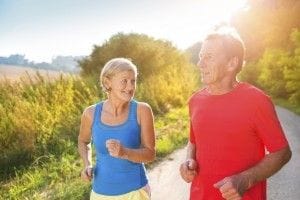 February is heart month. Seniors who struggle or who have struggled with their cardiovascular health already know how debilitating it can be. Keeping the heart healthy takes some work, especially as we continue to age. In tandem with a healthy diet, exercise has been proven to be an effective means of reducing the onset of heart disease and should be incorporated into any cardiac home health care plan.
In general, people today are lacking the physical activity necessary to lead healthy, long lives. Seniors are also guilty of this behaviour, but the consequences and symptoms are more immediate. Lack of exercise can lead to a variety of negative health symptoms, including impacting cognition. One of the more serious repercussions of not getting enough exercise, however, is the effect it has on the heart.
Benefits of Exercise for Heart Patients
Exercise can do a lot for seniors. A recent study showed that just 20 minutes, four times a week on a stationary bike can improve muscle strength, reduce inflammation, and increase peak oxygen levels by up to 27%.
Improving strength is important because it allows you to do more as a senior. It gets rid of unwanted fat tissue and boosts the metabolism. Most importantly, though, is the impact it has on patients who have recently undergone heart surgery. After just one week of recovering from cardiac surgery, seniors can lose up to 15% of their strength.
For those seniors who have been fortunate enough to avoid any cardiac issues, exercise is a way of keeping that risk to a minimum. The improved circulation as a result of regular aerobic activity is what contributes to better heart health.
What Physical Activities Work
It should be noted that seniors should always consult with a medical expert before starting any new kind of workout routine. That being said, cardio or aerobic workouts are great ways to improve heart health. The Centers for Disease Control and Prevention advise that cardio exercises for seniors should be kept to moderate intensity and done for approximately 165 minutes per week, which works out to roughly 20 minutes each day.
For those seniors who can't do a moderate intensity workout, such as jogging or cycling, due to health concerns, walking is an alternate. It still increases the heart rate and can be done in a manner that is still fun, such as walks through the park or even shopping.
Resistance exercises also work and can be incorporated into a regular routine. Light weights or resistance bands are a good place to start. Always be careful when managing weight, however. There is no benefit to using anything exceedingly heavy and it can also be dangerous.
The overall goal for seniors is to stay active. How that works out depends on an individual's capabilities, but most seniors are capable of at least low-intensity cardio workouts. Our caregivers at Home Care Assistance Toronto/York Region encourage the seniors under our care to be active and eat healthy diets. If your parent or loved one has recently had cardiac issues, give us a call at (905) 597-5825, and we'll provide the best advice possible.

Author:
Brian Shevel
About: I am originally from South Africa from a small city called Bloemfontein. After I completed my education, I went to work with my late-father who had a wholesale business selling clothes and shoes to retail stores around the country. I was in the business till I left for Canada in 1993. In Canada, I have run several businesses in a variety of industries. Although I experienced success, I missed helping people. I learned from my parents that helping seniors was important to their well-being and of great value to the community. Volunteer work remains a priority in my life. I am a past president of Bnai Brith and serve on many other committees.
Connect via:
LinkedIn