Get Help Managing Serious or Chronic Diseases with Palliative Care for Seniors
Posted by Brian Shevel on 1 February 2016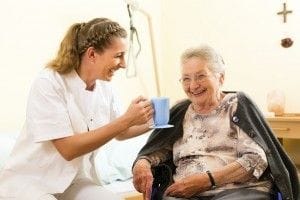 Caring for a loved one on any level can be difficult. The commitment of time and emotion can be overwhelming, and most often it goes unnoticed. There is another level of care for seniors beyond what a loved one can provide. It's called palliative care, and it is a growing discipline in home care and healthcare.
Palliative care for the elderly involves caring for those with chronic or more serious diseases. The symptoms of these diseases are ongoing but still treatable and require a team of specialists to manage their day-to-day necessities.
It's possible to receive palliative care at the hospital, at outpatient clinics, and as part of home care services. The goal is to work with patients to determine and meet their needs, control their conditions, which include engaging the patient by listening and figuring out ways to address their concerns.
What Is Involved In Palliative Elderly Home Care
Palliative home care involves a specific focus when it comes to caring for elders. Though the diseases or conditions affecting those in need of Palliative care may differ, the nature of the care is usually consistent.
Pain management
This is a part of palliative care that is most difficult on those going through it. The palliative team, including the caregivers, are tasked with finding ways to help seniors manage this pain either through some combination of narcotics or other type of therapy.
Managing Symptoms
There are usually a variety of symptoms associated with chronic diseases. Breathing, nausea, and loss of appetite are just a few of the more prevalent. It's important to recognize and manage these symptoms to make the patient as comfortable as possible.
More Than Physical Support
Palliative care for the elderly involves more than just the physical support they need. This is a very difficult time for them, and they will need as much emotional and psychological support as possible to help them get through. This is particularly where family and caregivers are most needed.
Palliative Care At Home
As mentioned, palliative care can be offered either at the hospital or in an outpatient treatment centre. But, as is typical of most all seniors or those receiving any kind of health care, they prefer to be treated at home.
The familiarity of being at home plays a big role in helping to ease some of the concerns of seniors may have regarding dealing with their health. Plus, home care systems have grown to become sophisticated enough to manage palliative care patients capably within patients' homes.
Home Care Assistance - Toronto/York Region offers different palliative care services to make it possible for patients to receive the best care possible without leaving their homes. We encourage you to contact us at 416-488-8777 with all of your questions. We'll be happy to provide the answers you need and inform you on the best plan of action for your loved one. Give us a call today. We are here to help

Author:
Brian Shevel
About: I am originally from South Africa from a small city called Bloemfontein. After I completed my education, I went to work with my late-father who had a wholesale business selling clothes and shoes to retail stores around the country. I was in the business till I left for Canada in 1993. In Canada, I have run several businesses in a variety of industries. Although I experienced success, I missed helping people. I learned from my parents that helping seniors was important to their well-being and of great value to the community. Volunteer work remains a priority in my life. I am a past president of Bnai Brith and serve on many other committees.
Connect via:
LinkedIn