5 Helpful Apps for Seniors Living Alone
Posted by Brian Shevel on 17 February 2020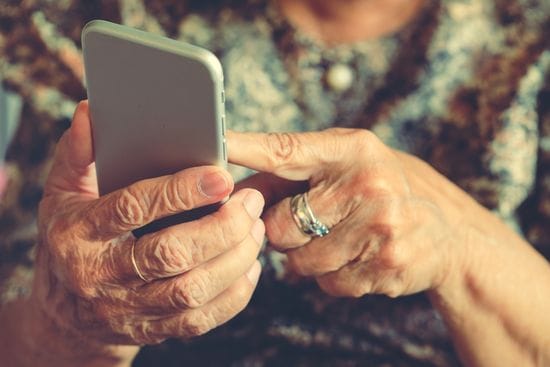 We live in a time where apps are making the world turn. So, it should come as no surprise that there is a wealth of apps available meant for drastically boosting your elderly loved one's quality of life.
It's not an overstatement to say that if your older relative is living alone, these apps are borderline essential.
Note that in this first section, we're strictly discussing Android apps for seniors.

1. TalkBack
Your loved ones who already struggle with technology, while also struggling with their sight, will love Talkback.
This useful Android app for seniors allows any user to interact with various screen elements. With audio feedback guiding your older loved one, the struggle of choosing the correct apps and buttons will be largely offset.
Plus, through customization, it's possible for you to make the usability of this app even more straightforward.
Learn more about TalkBack on Google's site.

2. Magnification
Magnification is one of the best apps for seniors who require help with their vision, as it zooms in on the contents of the phone screen.
The functionality of Magnification changes depending on the device and will take a few minutes to learn. We think the benefits are well worth the relatively small learning curve.
Check out and download Magnification here.

3. Wheelmap
When loved ones are confined to a wheelchair, it can be a considerable challenge to find places to visit that offer full wheelchair accessibility. But thanks to Wheelmap, accessibility issues are far less of an inconvenience.
With this nifty little app, finding local spots with accessibility for the elderly on wheelchairs is vastly improved.
Wheelmap has an impressive database for wheelchair-friendly places. All that's required is opening the app then inputting your choice of location.It'll then let you know whether the site is wheelchair friendly through these prompts:
Green = wheelchair accessible
Yellow = partially accessible
Red = inaccessible
Download WheelMap from the Google Play store.
If you're interested in an iPhone app for seniors, the last couple of options are relevant to you:

4. Find My iPhone
If you're trying to find apps for seniors with dementia or Alzheimer's, Find My iPhone might be the ticket. Given the memory loss that's symptomatic with these conditions, it's only natural that mobile devices could end up disappearing.
By using 'Lost Mode,' it's possible to find the phone via the map and tracking feature. Furthermore, in case of a theft, you can remotely lock the phone, so the potential thief can't steal data or sensitive information.
Learn more about the Find My iPhone app here.

5. Medisafe Medication Reminder
The Medisafe Medication Reminder is highly regarded by healthcare professionals.
Not only does this iPhone app remind your older relative to take their medication, but it also triggers an alert when it's time to refill prescriptions.
Furthermore, the Medisafe app keeps track of blood glucose levels, blood pressure, weight, pulse, and temperature. From there, it can be saved and sent to your loved one's physician.
Learn more and download the Medisafe app here.

At Home Care Assistance, we love providing quality of life tips for your older relative, such as handy apps to use or creative ways to engage seniors. If you've found this blog useful and require care for an elderly loved one, contact us today about our in-home care services and packages. We've serviced cities throughout the York Region for the past decade.

Author:
Brian Shevel
About: I am originally from South Africa from a small city called Bloemfontein. After I completed my education, I went to work with my late-father who had a wholesale business selling clothes and shoes to retail stores around the country. I was in the business till I left for Canada in 1993. In Canada, I have run several businesses in a variety of industries. Although I experienced success, I missed helping people. I learned from my parents that helping seniors was important to their well-being and of great value to the community. Volunteer work remains a priority in my life. I am a past president of Bnai Brith and serve on many other committees.
Connect via:
LinkedIn