Helpful Tips to Enjoy Mother's Day
Posted on 10 May 2019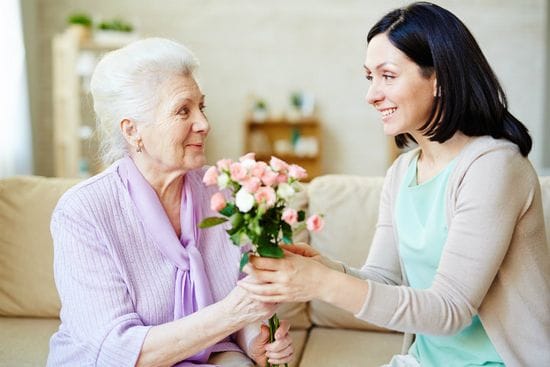 Helpful Tips to Enjoy Mother's Day
Mother's day is an important time of the year to celebrate mothers for all that they have done and continue to do for us. Quality time with our mothers has always been precious, and it only continues to grow in significance as our mothers age. Mother's Day is a great opportunity to use that quality time and remind your mother once again how much you appreciate her.
Kind gestures to let your mother know that you are thinking of her are always excellent, such as sending cards, gifts, and flowers. A Mother's day phone call or a visit can mean even more.
If your mother is experiencing symptoms of Alzheimer's, we understand the extra mile that you would like to go in order to ensure that she will have a wonderful Mother's day. However, we also recognize that it may be challenging to know exactly how you can go about doing just that. Here are some helpful tips that will definitely make it a perfect Mother's day for your favourite person.

5 Tips to Enjoy Mother's Day

1. Recognize her favourite activities. Mother's day is all about your mother - it is her day! Enjoy the day by acknowledging the activities that she loves doing most. For example, it may be having a cup of tea with her family, taking a walk and enjoying the weather, or listening to music and dancing. Depending on the stage of the disease, it may not always be easy engaging in conversation with your mother who has been diagnosed with Alzheimer's. She may have a difficult time forming sentences and understanding what you are saying. For this reason, activities present a great alternative to verbal interaction by allowing you to be engaging and get that quality time with her.
2. Continue traditions. We understand that many families have wonderful Mother's day traditions that they have done for years. This Mother's day, we encourage your family to continue those same traditions as it can trigger old, valuable, and precious memories. If it is difficult to continue the same traditions, try to offer alternative solutions that may still mimic old traditions. For example, if your father always brought the family together for Mother's day and cooked barbecue for everyone but he is now finding it hard to do so in his advanced years, the family could try the alternative solution of still getting together for Mother's day and going to a restaurant together.
3. Manage Expectation. It may be difficult for you to control your excitement about Mother's day. After all, you are celebrating the day of one of the most important people in your life, and you may have a wonderful plan of activities laid out. However, it is important to manage your expectations, especially if your mother has Alzheimer's and is experiencing sundowning. Your mother may be excited and engaged in the beginning of your plans, but you may find her losing interest later in the day. Understand that this is okay, and go with the flow!
4. Revisit Happy Memories. Your mom may have a challenging time exercising her short-term memory if you ask her what she had for lunch the day before, but people and places from the past hold a very special place in the heart of those affected by Alzheimer's. A great idea could be to put together pictures of previous Mother's day celebrations to remember those happy memories from the past. Additionally, other pictures of family holidays, vacations, and important events can be can stir fond memories and are a great way to initiate a conversation. Revisiting these memories that you loved as a child are also a great way to demonstrate to your mom the importance of her influence on your life.
5. Let it be HER day. Make sure to prioritize your mother on this wonderful day. Put aside all your other plans and commitments; emails from work, friends reaching out, etc., and instead, give your mother the full attention that she deserves on this day. The elderly, with or without Alzheimer's, oftentimes feel overlooked and disregarded, so make sure to revolve the day around her. Try to ask for her opinion on a personal matter, see if she will share that secret recipe that the family loves. Do the very things that will make her feel valuable, useful, and most importantly, special.

5 Fun Mother's Day Activities

Mother's day is a wonderful time to show your mother how important she is, and how loved she is. You may want to make the day super special, but you may not be quite sure where to exactly start. If so, here are some ideas for you to consider. These suggestions are excellent for Alzheimer's patient as they work to help them cope with their cognitive condition.
1. Exercise. Many studies have explored the relationship between exercise and our brain health, and all of them have proven that engaging in exercise helps to keep our brains healthy. Take your mother out for a walk, enjoy the fresh air, and admire the beautiful flowers and trees that you see along the way. If your mother requires a wheelchair, then that is no problem! Take her out to a beautiful garden and have her do some light exercises with you.
2. Games. Which mother does not love a friendly round of 'Go-fish?' Take this time to engage in some games with her that will not only bring some joy to her day, but will also work to stimulate her mind. Try either playing some playing cards, puzzles, crosswords, word searches, or even some board games. A family favourite has always been Scrabble - put your mother's language, memory, and executive functioning skills to the test with this activity.
3. Music. Play her favourite music and take it one or two steps further - get her to sing and dance while listening to the music. Music has also been proven to manage stress levels, promote wellness, stimulate the mind, and trigger happy emotions. Additionally, it also evokes valuable and special memories from the past that would definitely make this Mother's day that much more precious.
4. Field Trip. Take your mother out to the museum and explore the beautiful art, paintings, and pieces. Ask her for her thoughts and opinions on the pieces and initiate a meaningful and insightful conversation. Alternatively, you may even take her out to a nice restaurant that may have a particularly theme. For example, if the best country that she visited was Mexico, take her out to a Mexican restaurant that showcases its rich and colourful culture.
5. Arts and crafts. If your mother enjoys arts and craft, this is certainly another excellent idea to include in your Mother's day agenda! Visit your local store and grab some arts and crafts pieces (glue, scissors, buttons, beads, paper, etc.), and work on a special Mother's day project together.
Here's to a happy Mother's Day!