Hiring Caregivers For Elderly Loved Ones This Holiday Season
Posted by Brian Shevel on 23 December 2016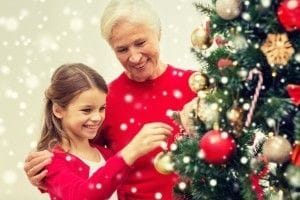 Christmas is only days away. By now, you've made all your travel plans and any other necessary arrangements. You know which family member is hosting, who's doing the cooking, and who has to bring the dessert. Something we hope you haven't forgotten is caregiving during the holidays. Finding a caregiver for elderly parents or other loved ones gives seniors a chance to enjoy the holidays as much as possible.
Ensure Your Seniors Are Safe and Happy
When considering elderly home care services this Christmas, there are a few factors that should be priority. We describe those below.
Domestic Care for Seniors
It seems everything gets amplified over the holidays. There's more cooking and cleaning to be done, more occasions to go out shopping, and just more work overall around the home. Holiday caregivers should be ready to help seniors handle the extra workload. Seniors don't want to be prevented from enjoying the excitement of the season, and caregivers play a big role in making sure this doesn't happen.
Healthcare for Elderly
As much as we want seniors to enjoy the holiday season, we can't get carried away. A major part of senior in-home care is making sure seniors are keeping up with their health regimens. That means any medications, dietary restrictions, or other health requirements expressed by the physician need to be followed throughout the season.
Personal Senior Care for the Elderly
Depending on what level of dependability your senior loved one may need, personal care may be a significant portion. If this is the case, professional caregivers for seniors are expected to help with routine daily activities, such as bathing senior, getting them dressed, helping them with their meals, and possibly even providing help using the toilet.
Companionship over the Holidays
The holidays are all about family, friends, and being together with those you love. Seniors who are unable to be around family feel the sting of being alone much more during the Christmas holidays. Sometimes the most helpful duty a caregiver can provide is being a companion to a senior who is away from family.
Advantages of Hiring Professional Caregivers
At Home Care Assistance - Toronto/York Region, seniors and their family get the benefit of senior care from one of the most trusted names in the industry. Our caregivers know how important the holidays are to so many seniors, so they go out of our way to be even more accommodating to their needs this time of year.
If you are a family looking for extra support for your senior parent over the holidays, contact Home Care Assistance today.

Author:
Brian Shevel
About: I am originally from South Africa from a small city called Bloemfontein. After I completed my education, I went to work with my late-father who had a wholesale business selling clothes and shoes to retail stores around the country. I was in the business till I left for Canada in 1993. In Canada, I have run several businesses in a variety of industries. Although I experienced success, I missed helping people. I learned from my parents that helping seniors was important to their well-being and of great value to the community. Volunteer work remains a priority in my life. I am a past president of Bnai Brith and serve on many other committees.
Connect via:
LinkedIn