Holiday Respite Home Care Services for Seniors
Posted by Brian Shevel on 16 December 2015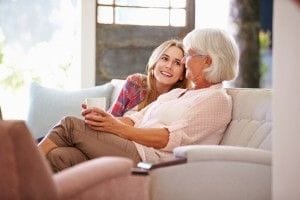 The holidays are a time of year when traveling is at a premium. Families are gathering at each other's homes while others retreat completely and take the time for themselves. As joyful as this time of year can be, it can also be a difficult time for seniors requiring home care services.
If you're a family member who's been caring for a senior year round, you look forward to the holidays for a break. You want the opportunity to travel and visit family, enjoy the social aspects of being around people you love, or just to get away and enjoy the time on your own.
Unfortunately, that's not always easy if you have a loved one for whom you are caring. They may not be well enough to be left on their own, yet you can't bring them along to wherever you have decided to spend your holidays, so respite care may be the ideal option.
Respite Care
One of the options available to family members who have dedicated their lives to caring for an elder is respite care. What respite care does is offer breaks for the caregiver. The breaks can be for a short duration - maybe a couple of days so you can go visit family during the holidays - or for longer periods, like if you are going to be out of the country.
The point of respite care is to acknowledge the fact that everyone needs a break. Caring for a loved one day in and day out takes its toll emotionally, mentally, and even physically. If not managed correctly, this can impact your social life, your work, and your personal friendships and relationships.
Home Care Assistance - Toronto/York Region offers respite home care services while letting you maintain your status as primary caregiver. When needed, we come in to help break the routine and give you the time you need to enjoy other aspects of your life or handle other important responsibilities.
And we don't just offer this service over the holidays. Any time throughout the year when you feel like you need a break for a short time, respite care is available. It's even possible to schedule regular respite care. Knowing that you will have a few days to yourself once or twice a month goes a long way in helping you plan and enjoy your own life, making respite care advantageous for many family caregivers.
The great part about working with Home Care Assistance - Toronto/York region is that you can feel confident your loved ones are in the best hands possible. Our caregivers are knowledgeable and trained to handle all circumstances, whether it's round-the-clock care for medications, managing diseases like Alzheimer's, or just the need for companionship.
So, as the holiday season approaches, take solace in knowing that if you do decide to travel, your loved one will be well taken care of. We provide home care in Vaughn and the surrounding communities and have a thorough understanding of both seniors' needs and the expectations of their families.
For more information on our home care services, contact us today.

Author:
Brian Shevel
About: I am originally from South Africa from a small city called Bloemfontein. After I completed my education, I went to work with my late-father who had a wholesale business selling clothes and shoes to retail stores around the country. I was in the business till I left for Canada in 1993. In Canada, I have run several businesses in a variety of industries. Although I experienced success, I missed helping people. I learned from my parents that helping seniors was important to their well-being and of great value to the community. Volunteer work remains a priority in my life. I am a past president of Bnai Brith and serve on many other committees.
Connect via:
LinkedIn