Home Care Abuse - Ways To Make Sure Your Loved Ones Are In Safe Hands
Posted by Brian Shevel on 20 January 2017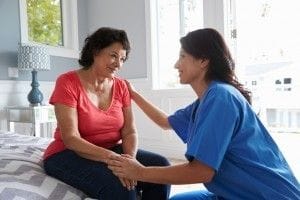 We know if there's a choice, seniors nearly always prefer to receive elder care services in the comfort of their homes. The surroundings are more familiar, the access to family and friends more available, and there's a level of independence that is maintained when inside the home.
Most will try everything they can to keep their elderly loved ones at home as long as they can, the one condition being that they know their loved ones are always safe. The question becomes how to ensure this safety and how to recognize when there is home care abuse.
Unfortunately, there are too many stories of seniors being abused by caregivers. It's sad, but it happens and is something we all must fight to prevent or to counteract. There are ways of preventing elder abuse, and we discuss some of those below.
Identifying the Early Signs of Senior Abuse
In preventing physical abuse of seniors, it's important to first recognize the signs early. It's also important that abuse can span beyond just the physical.
Physical Abuse
When dealing with seniors, physical abuse involves several components. Most noticeably, physical abuse refers to any kind of force inflicted on the senior that causes them pain. However, because in many instances seniors are dependent on their caregivers for support in some way, physical abuse can be expanded to include the inappropriate delivering of medication or confining seniors against their will.
Emotional Abuse
Emotional abuse against seniors is more complex. Generally, emotional abuse involves speaking to seniors in any manner that causes them distress. This type of violation can be presented in a variety of different ways, such as making seniors feel humiliated or embarrassed or intimidated because of the language or because of the content of the communication. But emotional abuse can take shape in forms of isolation or caregivers purposely not allowing seniors to see their family and loved ones.
Financial Abuse
In some cases, caregivers are trusted with the responsibility of handling senior's finances. When this happens, caregivers can potentially abuse this responsibility and manipulate a senior's finances without their knowing or without permission.
Educating Seniors on How to Recognize and Report Abuse
It is much more helpful to prevent or stop senior abuse if everyone involved knows how to recognize it. Part of a good caregiver's role is to make seniors more aware of potential abuse. Here are some ways this can be done.
Keep Communication Open with Seniors
Caregivers and family need to speak to seniors. Staying in regular communication, asking questions, and encouraging seniors to speak up is one of the first steps. Seniors may feel a bit embarrassed at sharing anything that went wrong, or may not even have recognized something was wrong, so encouraging seniors to speak is paramount.
Build Awareness in Seniors about the Topic
This is probably the first step that should be taken as a caregiver or a family member. You must speak to seniors about what qualifies as abuse, how abuse can be carried out, and steps they can take to prevent or report any abuse against them. Keeping seniors aware is crucial to help them avoid falling victim.
Help Them Get Comfortable with the Technology
There are many ways seniors can reach out for help. Dialing 911 is the most common; however, there are new wearable technologies that can aid in making it easier for seniors to contact help. As a caregiver, make sure seniors are familiar with how to use the technology and test it when possible.
Home Care Assistance - Toronto/York Region and its caregivers are trained to look for signs of abuse. Our caregivers are also sensitive to seniors who currently are or have been through abuse and will do their best to prevent or remove seniors from these abusive situations.
If you have any questions about senior abuse, or if you are need of
senior home care
, contact Home Care Assistance today.

Author:
Brian Shevel
About: I was born in South Africa in a city called Bloemfontein. Went to Christian Brothers College (CBC) finished High school there. I went into business with my father we had a wholesale selling cloths and shoes to retail stores around the country. I was in the business till I left for Canada in 1993. Was a past president of Bnai Brith and served on many other committees. In Canada worked in the computer software industry selling construction software. I was always involved helping the elderly as my mother was very involved and I went along with her. Also looked after my father as he aged. Helped as a volunteer with seniors.
Connect via: