Home Care Agencies vs. Private Caregivers: Who To Choose
Posted by Brian Shevel on 14 July 2016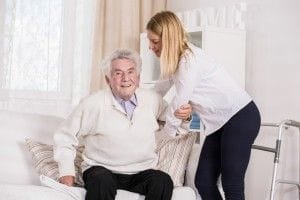 Finding the right caregiver for your loved one is such a difficult choice. This person is usually a family member or someone you care about very much, so deciding on who to leave them with and who you can trust will provide the best support is a choice that is often emotional.
Other family members are usually good for helping out in the short term, but when long-term home care is needed, it usually comes down to hiring either a home care provider or a private caregiver who is an individual for hire. Both have their pros and cons, and we cover both in this article.
Private Caregivers Pros
Here are some positives to hiring a private caregiver:
You make the final decision on selecting precisely who will care for your loved one.

The costs associated with caring for your loved one are typically lower than with home care agencies.

On a grand scale, you are giving independent caregivers the opportunity to work and earn a living.
Private Caregiver Cons
Here are some cons to hiring a private caregiver:
Finding one you like may be difficult.

If that caregiver isn't available, you need to have someone else ready to go on short notice.

You have to take on the responsibility of doing background checks and police checks and checking all the references to make sure this caregiver is up to par.

You will personally be responsible for managing everything associated with payment, including taxes and any deductions.
Home Care Agency Pros
Some of the benefits of working with a home care agency include:
You can choose from several caregivers who are all skilled, trained, and prepared to care for your loved one.

In the instance that your assigned caregiver can't make it, you will have backup caregivers available. This means you won't need to worry about having a backup plan should your private caregiver not be available.

References and background checks are all conducted by the agency. They are simply reviewed at the time they are matched with your loved one.
Home Care Agency Cons
Some things to think about when working with home care agencies:
The one main con of a home care agency is that different caregivers may be paired with your loved one throughout the duration of their care. This could cause some temporary disruption in the overall care process.
When it comes down to it, choosing a caregiver from a home care agency or a private caregiver depends on what makes you feel most comfortable. Home Care Assistance Toronto/York Region has a long history of home care services and we continue to prove our value in the homes of seniors everyday. Learn more about our caregivers by clicking here or contacting us today.

Author:
Brian Shevel
About: I am originally from South Africa from a small city called Bloemfontein. After I completed my education, I went to work with my late-father who had a wholesale business selling clothes and shoes to retail stores around the country. I was in the business till I left for Canada in 1993. In Canada, I have run several businesses in a variety of industries. Although I experienced success, I missed helping people. I learned from my parents that helping seniors was important to their well-being and of great value to the community. Volunteer work remains a priority in my life. I am a past president of Bnai Brith and serve on many other committees.
Connect via:
LinkedIn