Home Care Assistance for People with Alzheimer's Disease in Toronto
Posted by Brian Shevel on 19 May 2016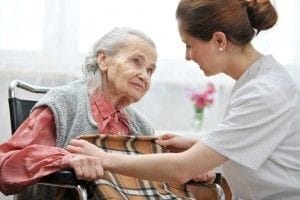 Anyone living or caring for a senior with Alzheimer's disease knows how difficult it can be to manage each day. Their diminishing cognitive skills can be frustrating and emotionally draining and helping them to keep up on daily routines takes a lot of effort and patience. Simply put, Alzheimer's home care is a challenge, which is why if you are a family member taking on this challenge on your own, you can surely use some help.
While it is absolutely true that caring for a loved one with Alzheimer's is probably one of the more difficult things you will have to do in your life, there are some ways to approach care to first help the senior feel more comfortable and in control and also to help you better manage each day. The goal is to reduce frustration, and that can be accomplished in several ways.
Schedule Wisely
Not only is routine still a possibility for people with Alzheimer's, but it is also probably necessary. Keeping a steady schedule for daily activities, such as taking a bath or any medications or appointments, helps to make the day less confusing.
Take Your Time
The reality is that even with a schedule in place, tasks are going to take more time. You need to allow your loved one the space they need to complete these activities knowing that nothing is straightforward anymore. Take your time and let them know they can take their time as well.
Involve the Person
You want to give your loved one as much leverage to do things on their own as possible. But while previously simple activities like setting the table or putting on their clothes may have once been done with no assistance, this is no longer the case. However, that doesn't necessarily mean you need to do it for them. Set some visual cues to help them get through these tasks on their own.
Provide Choices
You aren't there to give orders. Though it's in their best interests to give either/or choices, some choice is better than none and helps your loved one feel like they are still in control. Give them two outfit choices or ask if they would rather go outside or stay in.
Provide Simple Instructions
When you are put in a situation where you do need to give instructions, be clear with your communication and provide instructions that involve only one step.
Reduce Distractions
Focusing is a huge issue when trying to provide home care assistance for Alzheimer's patients. Reduce the amount of noise when having a conversation by turning off the TV or radio.
Be Flexible
The inevitable truth of Alzheimer's is that your loved one will become more dependent as time goes on. You will need to consistently be making adjustments to your own expectations and recognize their behaviour changes. Don't get so stuck in your own routine that you do not allow space for this to take place.
Home Care Assistance - Toronto/York Region Showing Unique Approach to Alzheimer's Care
At Home Care Assistance - Toronto/York Region, we specially train our caregivers to interact with seniors with Alzheimer's. From very practical steps, like providing nutritious meals and encouraging light physical activity, to a more cognitive approach where we help minimize changing behaviour, our caregivers are more than capable to take on the challenges seniors with Alzheimer's present.
And we do this while fully supporting the family. There's no way home care is possible without the help of loved ones and we will count on you for your knowledge and support. At Home Care Assistance Toronto/York Region, we aim to do our very best to honour your loved one's independence and freedom as it was before they had Alzheimer's.
Contact Us now if you are caring for a loved one with Alzheimer's disease. We're here to help make their life - and yours - more comfortable.

Author:
Brian Shevel
About: I am originally from South Africa from a small city called Bloemfontein. After I completed my education, I went to work with my late-father who had a wholesale business selling clothes and shoes to retail stores around the country. I was in the business till I left for Canada in 1993. In Canada, I have run several businesses in a variety of industries. Although I experienced success, I missed helping people. I learned from my parents that helping seniors was important to their well-being and of great value to the community. Volunteer work remains a priority in my life. I am a past president of Bnai Brith and serve on many other committees.
Connect via:
LinkedIn