Home Care For Seniors After Hospital Discharge
Posted by Brian Shevel on 18 August 2016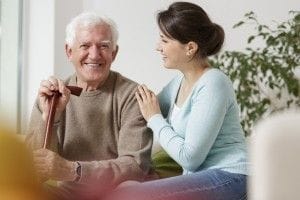 Senior care after a hospital discharge is a stressful time for both seniors and their families. Everyone is generally glad to see their parents or grandparents able to come back home, but the commitment involved in caring for their loved ones can be overwhelming.
Whether the anticipated recovery period is a few weeks, a few months, or is a permanent situation, caregivers must be prepared to devote their time to meeting the health needs and day-to-day needs of their loved ones. That can take a lot of planning and coordination, and depending on the extent of the care your loved one will need, it can also be mentally draining if you are not ready to take on such a task.
Steps to Recovery at Home
Elderly care after a hospital discharge will always be a process. Caregivers and seniors will have to be patient as they grow accustomed to their new circumstances. Generally, the steps for senior care following a stay in the hospital are meant to gradually move seniors from being dependent on their caregivers to full independence if possible.
First arriving at home after a hospital stay is usually the toughest part to get through for seniors. They are still weakened and have no idea of how their lives will be altered in either the short or long term. Caregivers need to try their best to get seniors into a routine and have them feel comfortable with the adjustments.
Even simple adjustments, such as having to take a certain number of pills a day, can be a difficult change. It's important to be optimistic with seniors and help them maintain a positive outlook. Change is difficult for anyone, but it is especially difficult for seniors.
Caring for Elderly after Hospital Discharge
The first thing any family needs to know for a senior's recovery after a hospital discharge is that they have options. Hospitals usually manage the early phases of recovery, but then that responsibility is shifted either to some kind of rehab or skilled nursing facility, or to the home.
Many surveys and studies show that an overwhelming amount of seniors would much rather be at home when receiving any kind of care, including medical. So, you can imagine that if they have the choice to be home, that's likely where they'll choose to be.
At Home Care Assistance - Toronto/York Region, we are prepared to assist with the in-home senior care for your loved ones after they have returned from the hospital. Our caregivers are incredibly passionate and trained to handle the nuances that come with caring for seniors. You'll never have to worry if your parents or grandparents are in the care of our caregivers.
If you have a loved one who is preparing to be discharged after a hospital stay,
contact us now
at
905-597-5825
.

Author:
Brian Shevel
About: I am originally from South Africa from a small city called Bloemfontein. After I completed my education, I went to work with my late-father who had a wholesale business selling clothes and shoes to retail stores around the country. I was in the business till I left for Canada in 1993. In Canada, I have run several businesses in a variety of industries. Although I experienced success, I missed helping people. I learned from my parents that helping seniors was important to their well-being and of great value to the community. Volunteer work remains a priority in my life. I am a past president of Bnai Brith and serve on many other committees.
Connect via:
LinkedIn