Home Health care Speeds Recovery from Hip Replacement Surgery
Posted by Brian Shevel on 3 March 2016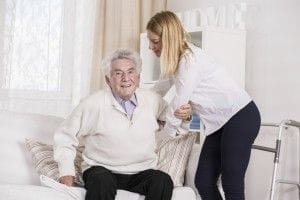 Hip replacement surgery is one of the most common procedures elderly individuals will need to undergo and also one of the most common reasons seniors might need home health care in Toronto. With most hip replacement patients being between 60 and 80 years old, the number of procedures is only going to increase with the aging population.
Although patients do not usually spend more than a week in the hospital following a hip replacement, it can take up to six months for full recovery to occur. During this period, the patient will need assistance not only with daily tasks as his or her body adjusts to the new prosthetic, but he or she will also need careful monitoring to catch the signs of any post-surgical complications. These services and more can be provided by home health care services and agencies, which can prove invaluable in ensuring a speedy recovery.
Caregivers Serving As Helpers Following Hip Replacement
Caregivers provided by home health care agencies have several roles to play. The first and most immediate will be assisting with the hospital-to-home care transition. Going from the hospital bed to the bedroom is more than just a matter of transportation. Coordination is required to ensure that medical needs are met, any necessary prescriptions are obtained and filled, and that any needed assistive arrangements (walkers, etc.) are available, among other tasks. By minimizing the disruption caused by a hospital-to-home care transition, caregivers can maintain continuity of care and avoid gaps in the patient's welfare.
The weeks and months following hip replacement surgery are a time for rest, rehabilitation, and monitoring. A caregiver can assist with all of these roles in numerous ways.
Personal Care
Mobility is going to be difficult, especially in the early days following discharge. One of the basic parts of a caregiver's home health care services is to assist with any personal care such as dressing, bathing, and going to the bathroom if required. Depending on the state of recovery, assistance with other tasks like lifting, sitting or standing, or using the stairs can be expected as well.
Medication Management
In addition to any prescriptions the patient may be on already, it is likely that some preventative medications will have been prescribed to avoid post-surgical infections. Part of a caregiver's duty is to make sure that medications are taken at the appropriate times and that no doses are skipped.
Home Tasks
While recovering from a hip replacement, it will not be possible to engage in many daily tasks. Part of home health care services is picking up this slack. The caregiver will keep the environment clean through simple tasks like vacuuming, doing laundry, or washing dishes. He or she will run any important errands, fix meals, and otherwise work to ensure the patient can give full attention to personal recovery.
Caregivers Watch for Post-Surgical Complications
Advances in hip surgery have made the procedure much safer than it used to be, but no surgery is 100% risk free. There are several quality-of-life and medical complications that can arise following surgery that need to be watched out for. Caregivers engaging in home health care services know the possible side effects of a hip replacement and will be on alert for complications such as:
Hip dislocation

Bone fractures

Joint infections

Blood clots

Numbness and weakness

Bone density loss
If the caregiver spots signs of a possible complication, the he or she can render aid, take preventative steps, or bring the patient to the hospital as needed.
Home Health care Agencies Make the Recovery Process Easier on Patients
Recovering from a hip replacement surgery is a lengthy process and one that can become extended if not cared for properly. As a leading provider of caregivers for surgical recovery in Toronto and York, Home Care Assistance - Toronto/York Region matches clients with caregivers who specialize in recovery from hip replacement surgery. We also offer numerous other resources designed to make the post-surgical period easier on you and your family. To inquire about home health care services and caregivers, contact us today at 905-597-5825.

Author:
Brian Shevel
About: I am originally from South Africa from a small city called Bloemfontein. After I completed my education, I went to work with my late-father who had a wholesale business selling clothes and shoes to retail stores around the country. I was in the business till I left for Canada in 1993. In Canada, I have run several businesses in a variety of industries. Although I experienced success, I missed helping people. I learned from my parents that helping seniors was important to their well-being and of great value to the community. Volunteer work remains a priority in my life. I am a past president of Bnai Brith and serve on many other committees.
Connect via:
LinkedIn