How Elder Care Services Help Seniors Counter Loneliness
Posted by Brian Shevel on 7 July 2016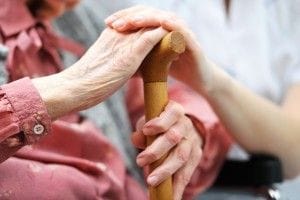 By now, you've heard that the senior population in Canada is rising at a rate that will double in the next 25 years. With this new reality will come many issues, some of which we are already having to deal with right now, and elderly home care services are near the top of that list. Finding enough resources to handle the growing senior population continues to be a challenge.
More specifically, there is one challenge that the International Federation of Aging said is, "the number one emerging issue facing seniors in Canada." That is the issue of fighting loneliness and social inactivity.
Some Statistics on Senior Isolation
There are a few disturbing statistical trends concerning seniors. Reports have shown that seniors living in residential care are diagnosed with depression at a rate of 44% and those who do not have the social support network have a 60% greater chance of being diagnosed with dementia or experiencing cognitive decline. It's also been proven that one of the highest suicide rates is that of senior men over the age of 80.
Causes and Effects of Loneliness in Seniors
There is no single cause to seniors feeling lonely. Rather, it's often a combination of factors that lead to those results, and the effects are both physically and psychologically harmful.
Causes
Some of the main causes of loneliness include:
Living alone

Lack of family support

Social isolation or inactivity

Geographical isolation

Losing a spouse

Challenges with transportation
Effects
Loneliness can have the following effects on seniors:
Increased likelihood of cognitive decline and even dementia

Depression

Long-term illness

Pessimism about the future

High blood pressure

Increased susceptibility to abuse
Tips for Dealing with Loneliness in Elderly Parents
There are things you can be doing right now to help combat or even prevent loneliness in your elderly parent. Below are some simple acts or gestures that go a long way in helping ignite your parent or loved one's mind and help them avoid these negative emotions.
Pay Attention: You'd be surprised how far simply being attentive goes. Engage in meaningful conversation or take them out with you to one of your activities. Little things like this show you care and that could mean the world.

Bridge the Generation Gap: One important task of a caregiver is to not let the generational gap be an issue. Yes, there will be differences, but as a caregiver, you should embrace these differences while focusing on building the commonalities.

Acknowledge the Effort: It doesn't take a grand gesture to make a grand difference. A simple phone call in the morning or stopping by for dinner on Sunday afternoons are great ways to show your elderly loved one that you care. Remember that it's the thought that counts.

Alleviate Boredom: Just because your parents are older doesn't mean they don't want to do anything. Sometimes, it takes you giving them that extra boost to get out of the house, or maybe you going over to the house and playing some fun games is more appropriate. The point is to not let their minds be too idle for too long.

Address Health Issues: It's quite possible that a health concern is what's causing your loved one to feel isolated. In this case, talk to them. Ask them how you can help, or maybe have them speak to a doctor to see what more can be done. Either way, let them know they are not alone.

Have a Plan: Once you've figured out that loneliness is definitely the issue, then come up with a plan with your family and caregiver to fight it. Together you will all be able to make something happen and engage your parent or loved one on a level that will make them feel loved and appreciated.
The
caregivers
at
Home Care Assistance - Toronto/York Region
understand what it takes to prevent those feelings of loneliness in seniors. Our elderly care services offer families the help they need to balance out the time requirements, and can build a strategy that works. To learn more about how Home Care Assistance Toronto/York Region can help you and your family,
contact us today
.

Author:
Brian Shevel
About: I am originally from South Africa from a small city called Bloemfontein. After I completed my education, I went to work with my late-father who had a wholesale business selling clothes and shoes to retail stores around the country. I was in the business till I left for Canada in 1993. In Canada, I have run several businesses in a variety of industries. Although I experienced success, I missed helping people. I learned from my parents that helping seniors was important to their well-being and of great value to the community. Volunteer work remains a priority in my life. I am a past president of Bnai Brith and serve on many other committees.
Connect via:
LinkedIn