How In-Home Caregivers Handle Seniors With Depression
Posted by Brian Shevel on 17 March 2017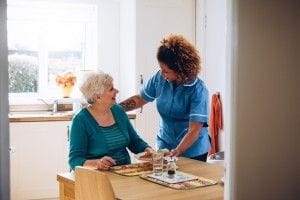 Caregiving means different things to different people; some need physical care, some need emotional care, and others may need both. Whatever the case, it's up to the in-home caregiver to provide the care recipient with the care that they need. Depression in seniors can be difficult to deal with, and it requires special attention. If you'd like to learn how to handle caregiving for seniors with depression, keep on reading.
Get Involved in Treatments
Caregivers should learn about the care plan for their senior with depression and be a part of it. Sticking to their treatment can be tough for seniors, so having someone to encourage them and give them an extra push can't hurt. Helping them with their treatment will let them know that they're not alone and that they have your support no matter what.
Watch and Listen for Signs
If your suspect your senior of experiencing depression for the first time or you think they may be relapsing after being on a course of treatment, the best thing to do is take them to the doctor and get a professional opinion. Early stages of depression include consistent sadness or crying, anxiety, agitation and aggression, self-blame, feelings of helplessness, and loss of self-esteem.
Keep Up to Date with Doctor Visits
The best thing to do for your senior with depression is to keep up with their doctor visits. It may be difficult to get them out of bed much less get them out of the house some days, but it's what's best for them. Going to all their appointments is important since their doctor may notice things that you haven't picked up on, which could possibly call for an adjustment in their care plan. Not to mention, the little outing couldn't hurt.
Exercising Routine
Exercising has been found to reduce the effect of depressionand it doesn't even have to be intense. Taking occasional walks during the day for 30 to 45 minutes can reduce symptoms in your senior. Work them up to these walks by doing a little bit every day and slowing going for a little bit longer than the day before. Take water and bench breaks often when needed.
Provide Emotional Support
The main thing your elder probably wants from you is to know that you're there. They may not open up and talk to you about their feelings, but knowing that they have someone who care and that'll listen to them can help more than you'd imagine. In-home senior caregivers need to remember that patience is key and that exuding emotions like anger and annoyance will affect their senior, whether they say it outright or not.
Get a Second Opinion
Seniors with depression can be a lot to handle, and you don't have to do it on your own. The caregivers at Home Care Assistance - Toronto/York Region are able to provide additional support to cater to elders with depression and other mental health conditions. Our experienced staff is trained to handle the difficult issues that may arise in situations like these, so you can have peace of mind when you leave your senior their capable hands. If you'd like to learn more about how we can assist you can your family members, please feel free to contact us by phone or e-mail.

Author:
Brian Shevel
About: I am originally from South Africa from a small city called Bloemfontein. After I completed my education, I went to work with my late-father who had a wholesale business selling clothes and shoes to retail stores around the country. I was in the business till I left for Canada in 1993. In Canada, I have run several businesses in a variety of industries. Although I experienced success, I missed helping people. I learned from my parents that helping seniors was important to their well-being and of great value to the community. Volunteer work remains a priority in my life. I am a past president of Bnai Brith and serve on many other committees.
Connect via:
LinkedIn