How In-Home Caregivers Help Seniors Counter Memory Loss
Posted by Brian Shevel on 28 April 2017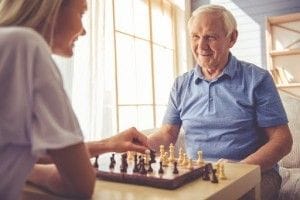 One of the scariest things about getting older that many of us fear, is memory loss. It can be unsettling for seniors when it happens to them, as well as to their close family members and loved ones and their caregiver. When memory begins to fade, it can be a precursor to full-blown dementia or a sign of early on-set Alzheimer's. If your senior has in-home healthcare, check out these tips on how to stop memory loss to share with their caregiver; when everyone works together, the collective effort can help treat memory loss.
Exercise to Fight Memory Loss
Daily physical exercise is a helpful senior memory loss solution that can work to maintain and even improve cognitive functions. Something as simple as a 30-minute walk each day can help keep your brain in tip-top shape - physical exercise actually has the best evidence for preserving memory and mental function with ageing. Research even suggests that physical exercise also triggers the release of the BDNF protein, which promotes healthy nerve cells in the brain, giving seniors' memory skills an added boost.
Encourage a Brain-Healthy Diet
A brain-healthy diet entails no more than 30% fat and plenty of foods that are rich in vitamins E and C and beta-carotene. Brain-healthy foods include dark leafy greens, brightly colored vegetables, fish, flaxseed oil, and walnuts, to name a few.
Games and Activities for Coping with Memory Loss
Mental exercise is just as important if not more so than physical exercise - doing simple things like crossword puzzles and playing bridge can help maintain your memory. Playing other games like matching cards and even jigsaw puzzles can help too.
Help Them Stay Socially Active
Joining a local seniors' centre is a great way to make sure that your senior gets out and about regularly and has quality human interactions. The more social connection someone has, the more likely they are to preserve mental function and memory. Not to mention, being social can help decrease the risk of depression, which is another condition that can eventually lead to dementia.
Combat Sleep Problems
When seniors aren't able to sleep soundly, their attention span and ability to concentrate go down, and their mental function just isn't as sharp as it could be. Help your senior get a more restful sleep by getting them on a schedule that allows them to go to bed and wake up at the same time each morning. Avoiding big meals before bed, and decreasing nicotine, caffeine, and alcohol consumption can also help regulate their sleep habits.
If memory loss has taken a toll on your senior and the rest of your family, it may be time for some help.
Home Care Assistance - Toronto/ York Region
is happy to provide caregiving services to the GTA. You can have peace of mind when you leave your elderly in the care of our compassionate in-home caregivers - they're all trained and experienced in this industry. Whether you're looking for a few hours a week or full-time in-home care, we've got the
senior care services
solution for you.
Contact us today
for more information on how we can help out with your senior.

Author:
Brian Shevel
About: I am originally from South Africa from a small city called Bloemfontein. After I completed my education, I went to work with my late-father who had a wholesale business selling clothes and shoes to retail stores around the country. I was in the business till I left for Canada in 1993. In Canada, I have run several businesses in a variety of industries. Although I experienced success, I missed helping people. I learned from my parents that helping seniors was important to their well-being and of great value to the community. Volunteer work remains a priority in my life. I am a past president of Bnai Brith and serve on many other committees.
Connect via:
LinkedIn