How To Care or Your Elderly Family Member When Their Caregiver is Absent
Posted by Brian Shevel on 10 March 2017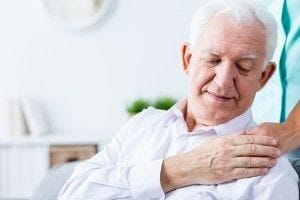 Even if you have a full-time caregiver for your elderly family member, chances are you'll have to cover for them at one point or another when they can't make it in. While agencies will usually send in a replacement, you won't have this luxury when you hire a private home care service for your senior. You might be at a loss when you're thrown into the role of caregiver unexpectedly, and it's a lot to take inwhat are you supposed to do with them all day? Watch TV? Go to the park? You may not be familiar with their everyday routine, but covering the basic caregiving responsibilities should hopefully be pretty simple. We've compiled a list of tips that can help you provide the best home care for your elderly family member, when left to your own devices.
Stimulate Their Mind
You should include on your schedule for the day some mind-stimulating activities. Doing things like puzzles, word searches or crosswords, and Sudoku are a great way to keep you senior's brain activethe more they use their brain power, the less likely they are to lose it. Chances are your elder won't challenge themselves unless you encourage them to. Stimulating their mind and forcing them to use their brain power will help strengthen it.
Keep Them Socially Connected
Many seniors are often left isolated in their homes, and only interact with their caregiver. Get them up and out of the house for a bit to get some fresh air, and meet other people their age. This can be especially tough for widows who are acclimated to being alone, but everyone needs friends. Try joining a social activity like bingo to give them an opportunity to socialize.
Get Their Medication in Order
Depending on your senior and the medications they require, you may need to spend some time organizing their medicine. We advise accompanying them to doctor's visits so you can understand what each medication is for and the stipulations around it. Take your time reading each label and making sure they take the correct tablet and the right timegetting daily or weekly pill box can help with this. Sometimes, your pharmacy might even help you when organizing them.
Provide Healthy and Safe Surroundings
An important step for any home with a senior, this step is especially important for homes with seniors that suffer from a disease like dementia or Alzheimer's. Have grip bars near chairs and the bathroom facilities to help them get up, and be sure to tuck away cables and wires to prevent tips and falls. Try not to leave potentially dangerous kitchen utensils in easy reach as some seniors may injure themselves while trying to cook or clean for themselves.
If you need a reliable in-home caregiving service to support your elderly family member, you can count on Home Care Assistance - Toronto/York Region. Our team of extensively trained caregivers will provide unparalleled care and never leave you or your loved one in a lurch. Whether you're looking for hourly or live-in care, we have the solution for you. Contact us today to learn more about how we can help.

Author:
Brian Shevel
About: I am originally from South Africa from a small city called Bloemfontein. After I completed my education, I went to work with my late-father who had a wholesale business selling clothes and shoes to retail stores around the country. I was in the business till I left for Canada in 1993. In Canada, I have run several businesses in a variety of industries. Although I experienced success, I missed helping people. I learned from my parents that helping seniors was important to their well-being and of great value to the community. Volunteer work remains a priority in my life. I am a past president of Bnai Brith and serve on many other committees.
Connect via:
LinkedIn