How to Communicate to Parents with Dementia
Posted on 9 December 2019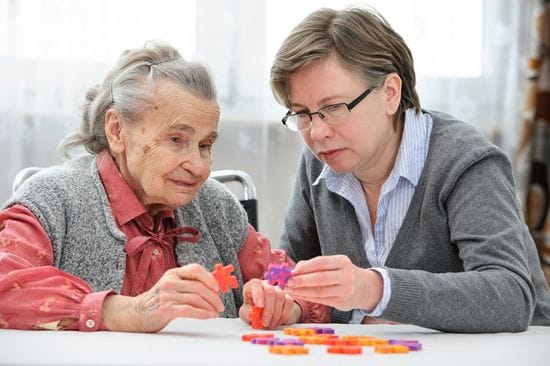 As your mom or dad's dementia progresses, symptoms will gradually become more severe, going from minor forgetfulness to noticeable impairment. Eventually, their sense of independence may be compromised.
Watching your mom or dad age with the disease is hard, especially as your ability to communicate with them will become more and more difficult. While you can't bring back the person you remember, you can still communicate and support your loved one and continue a loving, fulfilling relationship.
Help them along with gentle reminders
Adding helpful hints and reminders in your language will go a long way in communicating smoothly with your parent. For example, if you're starting a conversation with a parent with dementia, use phrases like "Hey mom, it's Alex, your son." This helps your mom or dad easily find conversation context, so their mind isn't worrying about who the person is they're speaking to, and can instead focus on your words.
You should do the same thing every time you introduce something new into the conversation. This means less time trying to figure out the context or figuring out what you're talking about, and more time having a meaningful conversation with your loved one.
Keep it simple
Simple is always better, and that includes your conversations with your parent. Keep all dialogue straightforward, simple, and free of distraction.
This can include the environment in which you engage in conversation, too. Think quiet areas with little action or movement. In terms of conversation, try to stick to one topic at a time, and use simple vocabulary and grammar that's free of ambiguity. Using idioms or figures of speech, for example, can create more confusion for your parent. You don't have to speak down to them like they're a child, but just keep it simple and straightforward.
Always stay calm and even keeled
It can be frustrating when you're first conversing with a person suffering from dementia. Without experience, you can quickly become irritable when they don't recall things you might've said just yesterday.
Remember to always be respectful (they raised you after all!), and to stay calm and even keeled - getting frustrated or even animated will only exacerbate the communication gap.
Be patient
Every conversation has a cadence, so be prepared when the communication gets bogged down as your mom or dad tries to recall something. A normal conversational rhythm is often too swift for someone battling dementia, so go at their pace patiently. By taking things slow and giving them ample time to formulate a response, you'll be more respectful, and the conversation will be more fulfilling.
Mind your body language
Body language is a subtle way to add another wrinkle to your communication, and can help provide clarity with what you're trying to convey. Keep your body language clear and big can help your loved one follow along as you have a pleasant conversation.
---
If your loved one has been recently diagnosed with dementia, we can help them and your family adapt to the lifestyle changes, getting the most out of their day-to-day living. For more information about our dementia care services, visit Home Care Assistance in Toronto.