How To Gift Your Seniors A Stress-Free Holiday At Home
Posted by Brian Shevel on 9 December 2016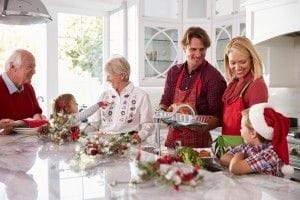 We can start counting down the days till Christmas is finally here. All the fun, all the family, and all the gifts make the holidays a special time of year. One thing to keep in mind the holidays is elderly healthcare. Senior care for Christmas is important, and there are things you can do to cut down on the stress on elders brought about by the bustle of the season.
Tips for Seniors to Reduce Holiday Stress
As joyous as the holidays can be, don't forget that seniors often need specific types of care. Understanding senior home healthcare means you can better help them be prepared to enjoy the holidays with the rest of the family. Here are a few healthy tips for Christmas to get you started.
Plan Appropriate Activities
When you gather together, you want to plan activities the entire family can enjoy, including seniors. Something fun and active can still make the cut, but make sure you're not planning any activities that will put any undue strain on seniors. Also, be aware of any conditions that seniors in your family may have and don't plan activities that will make it impossible for them to participate.
Keep Expenses to a Minimum
We know how excited everyone gets to go out and buy their family members gifts. The thing to remember is that you need to be sensitive to everyone's financial situation. Seniors, in particular, are likely retired. You want to keep expenses down so they don't feel any added pressure to spend more than they should.
Keep Friends or Family Around
This is really what the Christmas holidays are about: family and friends uniting to enjoy each other's company and share in each other's energy. For seniors, they likely don't get to see the entire family much, so stick around as long as possible and really engage in conversation and the activities of the day.
Ways to Maintain Your Mind, Body, and Soul
More than just finding ways to adjust seniors to the holidays, there are ways in which you can encourage them to maintain their minds, bodies, and souls throughout the holiday season.
Make Healthy Choices
Of course, there will be all types of food spread out on the dinner table or in front of the TV. For seniors, however, it's in their best interest not to overindulge and stick close to their health routines. If that means easy on the sugar, then seniors should go easy on the sugar. They still have an entire year to look forward to once the festivities are over.
Keep Exercising
The holidays aren't the time to stop those daily morning walks. Get out there and keep up with whatever exercises that were being done before the holidays went into full swing. The more active you remain, the more you can cheat in other areas like eating those succulent Christmas dishes.
Stay Involved
The holidays come with a lot of travelling and a lot of planning. Don't automatically assume seniors want nothing to do with either of those things. Keep them active and involved in every part of the planning possible. If they are willing and able to host dinner, then let them do it with your help.
Home Care Assistance - Toronto/York Region is just as excited for the holidays as everyone else. We know our caregivers provide the best home care possible to the seniors they care for on a regular basis. If you want some help with elderly care over the holidays, don't hesitate to contact us today at 905-597-5825.

Author:
Brian Shevel
About: I am originally from South Africa from a small city called Bloemfontein. After I completed my education, I went to work with my late-father who had a wholesale business selling clothes and shoes to retail stores around the country. I was in the business till I left for Canada in 1993. In Canada, I have run several businesses in a variety of industries. Although I experienced success, I missed helping people. I learned from my parents that helping seniors was important to their well-being and of great value to the community. Volunteer work remains a priority in my life. I am a past president of Bnai Brith and serve on many other committees.
Connect via:
LinkedIn