How To Have A Stress Free Thanksgiving For Seniors
Posted by Brian Shevel on 22 September 2016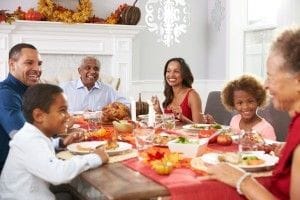 For Canadians, Thanksgiving is right around the corner. You can almost taste the food set on dinner tables with desserts baking in the oven. As joyous as Thanksgiving can be, it's also a lot of work. For families that have taken on the responsibility of hosting, this holiday can be strenuous. And for elder parents and grandparents, there are legitimate concerns about senior care as they try to determine how to best deal with all the commotion.
With families travelling and meals being planned, there are ways that seniors can have a stress free Thanksgiving. You want to keep them involved but not at the cost of furthering their health difficulties, particularly if they are coming off of surgery or are recovering from illness.
Here are a few ways to tone it down just a little bit for your senior parents or grandparents.
Think of Activities That Everyone Can Take Part In
You don't ever want seniors to feel like they aren't able to participate. When coming up with the fun activities that you all will be doing together as a family, make sure it's something that the elders will be able to join in on. The activity can still be active, so long as it's not something your seniors won't be capable of getting done.
Be Conscious of Healthy Meal Choices
The temptation to fill the plates with turkey and beef and all the succulent foods your heart desires is very real. And you shouldn't feel restricted about what you will cook, especially if you're the one hosting. But it won't take much to also cook some healthy alternatives. Maybe find out beforehand from your parents or grandparents if there's something in particular they'd like to eat.
Reflect on Fond Memories You've Had as a Family
Thanksgiving is one of those holidays that unites the entire family. As much as the food is the focus, it's always great to have conversations with family members you don't see too often. Don't doubt the impact the sharing of fond memories can have on seniors. It goes a long way to showing the appreciation you have for your senior parent or loved one.
Stay Positive
This may seem like a given, but we all know that when family gets together, there is sometimes a bit of bickering. For the sake of the seniors in the room, leave all of that animosity at the door. You should be gathering and sharing only positive thoughts and experiences to make the time together something everyone will remember.
The overall point is to really just keep your senior parents or loved ones in mind when preparing for Thanksgiving. Understand that their needs may have changed dramatically over the past year. That's why communication is important and making sure the mood of the day spent together is largely positive.
Home Care Assistance - Toronto/York Region
hopes everyone enjoys the holiday season. We give a lot of tips and advice on ways to improve
senior care
on our blog. If you have any further questions, don't hesitate to contact us at
905-597-5825
.

Author:
Brian Shevel
About: I am originally from South Africa from a small city called Bloemfontein. After I completed my education, I went to work with my late-father who had a wholesale business selling clothes and shoes to retail stores around the country. I was in the business till I left for Canada in 1993. In Canada, I have run several businesses in a variety of industries. Although I experienced success, I missed helping people. I learned from my parents that helping seniors was important to their well-being and of great value to the community. Volunteer work remains a priority in my life. I am a past president of Bnai Brith and serve on many other committees.
Connect via:
LinkedIn