How To Have Halloween Fun With Elderly Relatives
Posted by Brian Shevel on 20 October 2016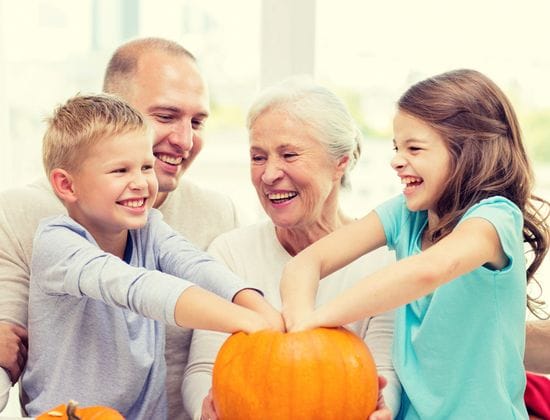 Halloween is just around the corner. That means kids running around in costumes and knocking on your door for their treats. It's always an exciting evening and a time for parents, grandparents, and young children to get together and have a little fun.
The elderly folks in the home don't want to be left out of the mix. There are many Halloween activities for seniors that everyone can enjoy. While some seniors may not be able to walk from door to door with their grandchildren, but we can think of some other Halloween tips for seniors that will keep them just as entertained as anyone else.
Plan Halloween Games
You'll already be inside handing out treats, so there's nothing wrong with pulling out a few board games to keep the night interesting in between trick-or-treaters. There are also some games you can play right on your cellphone that keep everyone involved and active.
Have a Pumpkin-Decorating Contest
This is a fun pastime in which even the kids can get involved before they leave for the evening on their trick-or-treating adventure. If you have a large family, get a couple of pumpkins and make teams. This way everyone is enjoying each other's company and seniors are still engaged.
Tell Scary Stories
Nothing says Halloween like sitting around a circle in the living room and telling scary stories. For the sake of any seniors present, it might be a good idea to keep away from the loud and sudden noises, but other than that, go at it and get creative! And if you're not into telling stories yourself, turn on the TV and watch the rounds of scary movies that are sure to be airing all night long.
Have a Costume Contest
Dressing up in creative costumes and acting silly is what Halloween is all about, after all. Seniors are never too old to get involved in a dress-up party. They may not go all out in full costume attire, but they'll do their best stay in the spirit of the evening. Choosing a winner at the end of the night gives everyone a little extra incentive to get involved.
Plan a Trip to a Pumpkin Patch
If your senior relative is still mobile, then take them out to a local pumpkin patch. Any opportunity to be active and social is a plus. If there aren't any pumpkin patches close by then see if there is some kind of autumn festival happening nearby. Do some quick research on what's happening in your area and make a day of it.
Candy for Everyone!
Maybe not too, but certainly a bit of indulgence on Halloween night won't hurt. At the end of the night, you can spread all the candy on the floor and have everyone choose their favourites. It's a good way to keep kids and seniors interacting and enjoying the evening.
Home Care Assistance - Toronto/York Region
hopes all senior citizens have a fun and safe Halloween. It's a good idea to make sure seniors are not alone that night because kids can sometimes get a bit mischievous. It also helps to have someone else answer the door every time someone knocks so seniors aren't forced to make the trip back and forth all evening.
If you want to know some more Halloween tips for seniors or are interested in any of our home care services, contact us today.

Author:
Brian Shevel
About: I am originally from South Africa from a small city called Bloemfontein. After I completed my education, I went to work with my late-father who had a wholesale business selling clothes and shoes to retail stores around the country. I was in the business till I left for Canada in 1993. In Canada, I have run several businesses in a variety of industries. Although I experienced success, I missed helping people. I learned from my parents that helping seniors was important to their well-being and of great value to the community. Volunteer work remains a priority in my life. I am a past president of Bnai Brith and serve on many other committees.
Connect via:
LinkedIn