How to Support a Loved One as They Transition to Live-In Home Care
Posted by Brian Shevel on 16 June 2015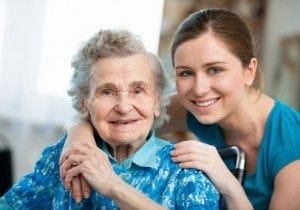 The change can happen quickly. One moment, your loved one is cooking, cleaning, or running around with the grandchildren; the next moment, they may need help conducting everyday basic household tasks. Or perhaps they are becoming more forgetful, experiencing extreme mood swings, and forgoing personal grooming habits.
If this is the case, you may come to the realization that assisted living may be the best option for your loved one - and home care is the preferred means of assisted living for many seniors. There are several factors you need to look at to help your loved one as they make the transition:
Approaching the Topic of Live-In Home Care
The fact that your loved one may someday need someone else to care for them, in some capacity, can be disheartening to face. It's important for you to support this transition by acknowledging its reality and being upfront with your loved one about the change.
Understand that the topic of live in home care will be a sensitive subject. Seniors are fierce about their independence; although they may realize they need some help, they may be hesitant to admit it.
Start by citing specific examples of how assisted living can benefit your loved one. Let them know the precise situations that have led you to believe that assisted living is in their best interest. Don't "accuse" your loved one, express your concern and let them know you want to make sure they are safe.
Home Care Assistance: The Choice for Seniors
For many seniors who admit they need home care assistance, taking them out of their homes can be a painful experience. Seniors want to spend their final years at home, where they are comfortable and where everything is familiar.
Livein home care will allow your loved one to maintain the comfort and familiarity they need, while keeping them in a social environment where people know who they are and where to find them. They will have security in knowing their surroundings and being able to say hi to their neighbours. Giving that up is a lot to ask for, which is why home care is the top choice for the elderly when it comes to assisted living.
Loved Ones Still Play an Important Role
Just because a caregiver may take on the most active role in caring for your loved one, it doesn't mean that your presence isn't crucial. You understand your loved one better than anyone else; you know what puts them at ease, you understand their personal preferences and inclinations - you are essentially their rock!
If you are helping a senior transition to assisted living, you'll be counted on to help encourage and soothe your loved during the transition period. The transition will be a lot smoother if you provide the caregiver with background information on your loved one so they have a better idea of who their patient is, including their likes, dislikes, and habits.
Home Care Assistance - Toronto/York Region offers home care assistance and live-in elderly home care services. Our trained caregivers will help take care of your loved one while providing you with peace of mind. Contact Home Care Assistance Toronto/York Region today for more information on our home care assistance services.

Author:
Brian Shevel
About: I am originally from South Africa from a small city called Bloemfontein. After I completed my education, I went to work with my late-father who had a wholesale business selling clothes and shoes to retail stores around the country. I was in the business till I left for Canada in 1993. In Canada, I have run several businesses in a variety of industries. Although I experienced success, I missed helping people. I learned from my parents that helping seniors was important to their well-being and of great value to the community. Volunteer work remains a priority in my life. I am a past president of Bnai Brith and serve on many other committees.
Connect via:
LinkedIn