In-Home Care Tips To Prevent Senior Slip-And-Falls
Posted by Brian Shevel on 4 August 2016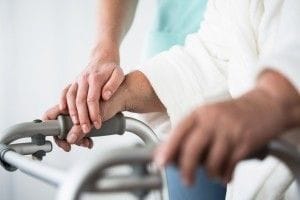 The problem of seniors falling is a serious one. The damage to their health after a slip-and-fall can be irreparable. They may break their bones or suffer from a brain injury that makes any kind of return to independent living nearly impossible. For that reason, senior in home care to better prevent these slip-and-falls is crucial.
With the senior population in Canada growing rapidly, and more and more seniors choosing to live at home, caregivers will be expected to take on more responsibility. That means caregivers need to be trained on how to help seniors avoid these accidents.
Major Principles That Help Prevent Senior Falls
There are ways caregivers can help seniors reduce their risk of falling. It's important to note that 70% of senior slip-and-fall accidents happen within 30 yards of the home, which is why senior care is so important.
Here are some ways to prevent seniors from falling:
Simple Exercises: Doing short sets of squats or getting outside for regular walks - or even jogs, if possible - are all good ideas. The stronger a senior's muscles are, the less chance they have of falling
.
Be Present and Aware: This is important for seniors. They must be aware of their surroundings at all times. They must be attentive to what's happening around them so they can move accordingly. If as a caregiver you move something around or add something to a room, it's important that you let the senior know.

Take Your Time: You don't ever want to put a senior in a position where they are rushing. This is how accidents happen. Caregivers, this means you should try to stay on schedule, and if you are running late, then run late. Don't rush just to make an appointment you are already running late for. The consequences aren't worth it.
If the Senior Feels Fatigued, Make Them Stay at Home
A lot of bad decisions are made when people are tired. That goes for anyone of any age. With seniors, however, being fatigued reduces their ability to stay present, and that can mean missing a step or inadvertently falling. The consequences of those falls can be life changing, so if as a caregiver your senior says they are tired, or if you can clearly see that they are tired, then find something for them to do inside.
Maintain Exercise Habits Even as the Weather Gets Colder
Cold weather in Toronto is certainly an issue. But you always want your senior to maintain a consistent level of physical activity. There are plenty of exercises you can do indoors, and on days that are not too cold or icy, going outside should still be an option.
Provide the Right Clothing
Comfort is king when it comes to seniors. Uncomfortable clothing that hampers movement only increases the chances of an accident. In home care workers need to make sure that seniors are wearing comfortable clothing both inside and outside the home.
Look for Products That Can Keep Seniors Safe
This is 2016. The level of technological innovation is unprecedented, and safety products for seniors at home are much more advanced than they used to be. Do a simple Google search and see what's out there to keep the senior you are caring for out of harm's way.
Home Care Assistance - Toronto/York Region has a team of amazing caregivers who are trained to prevent accidents. They are also very passionate about what they do and are always looking for ways to improve the lives of the seniors they are caring for. If you have any questions about how caregivers can help keep your loved one safe as they age, contact us now. We're here to help.

Author:
Brian Shevel
About: I am originally from South Africa from a small city called Bloemfontein. After I completed my education, I went to work with my late-father who had a wholesale business selling clothes and shoes to retail stores around the country. I was in the business till I left for Canada in 1993. In Canada, I have run several businesses in a variety of industries. Although I experienced success, I missed helping people. I learned from my parents that helping seniors was important to their well-being and of great value to the community. Volunteer work remains a priority in my life. I am a past president of Bnai Brith and serve on many other committees.
Connect via:
LinkedIn