Live-in Care vs. Hourly Care: What's Best For Your Senior?
Posted by Brian Shevel on 12 May 2017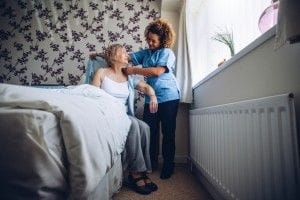 Finally deciding to hire a professional caregiver to help with your senior is a big step, and there are a lot of things to think about. You want to make sure that you hire an experienced caregiver who has a good reputation and who will make all the right choices to ensure the safety and comfort of your elderly loved one. One of the main things you'll need to think about is live-in vs. hourly care and which one is the best service for your senior. To learn more about hourly home care services and live-in care services, just keep on reading.
What Is Live-In Care?
Types of Care
When you hire a live-in caregiver for your senior, you can rest assured that they'll have a companion and someone to take care of them 24 hours a day, seven days a week. While this option is ideal for those who suffer from serious mobility issues or diseases like dementia or Alzheimer's, it can also be a good option for those with a little more independence.
Services Covered
Services sometimes depend on your agreement with the caregiver or their company. However, most caregivers are responsible for grooming, meal preparation, light housekeeping, bathing, and assisting with mobility challenges. Depending on the specific needs of your senior, you may want to go over the duties of your caregiver in detail before coming to an agreement.
Caregivers' Time
Live-in caregiver duties are usually shared between at least two caregivers. There will always be someone with your senior, but each shift usually lasts 12 hours. In some cases, caregivers may stay for 24 hours, including sleeping over, and switch with another caregiver the next day.
Reasons for Hiring Live-In Care Services
For a comparable price to a nursing home, your senior will receive one-on-one care from a certified caregiver, so you can be sure they'll never be ignored or forgotten. Live-in caregivers will be able to spend time with their patients, allowing them to feel appreciated and not taken for granted. One-on-one care can benefit your senior in a number of ways, even if they don't necessarily need round-the-clock supervision.
What Is Hourly Home Care?
Types of Care
Hourly caregivers for your senior will tend to them for a few hours a day or week, depending on the schedule you've created. Hourly care is typically provided on an as-needed basis, according to your family's necessities.
Services Covered
The same services are typically covered with hourly care as with live-in care. Caregivers will be responsible for general duties like grooming, bathing, preparing food, and helping your senior get around.
Caregivers' Time
Hourly caregivers' schedules can vary, depending on your needs. They're generally available 24 hours a day, seven days a week, so you can decide when you need them.
Reasons for Hiring Hourly Care Services
Many people opt for hourly care services when their work schedules conflict with their caregiving duties or when they decide they need a little help during the week. Whatever the reason may be, hourly care services are a great option that offer a ton of flexibility.
If you`re thinking about hiring live-in or hourly care services for your senior, contact Home Care Assistance Toronto/York Region today. Our professional caregivers will be able to cater to your senior, whether they're in need of full-time in-home care or just a few hours a week. Call us today for more information.

Author:
Brian Shevel
About: I am originally from South Africa from a small city called Bloemfontein. After I completed my education, I went to work with my late-father who had a wholesale business selling clothes and shoes to retail stores around the country. I was in the business till I left for Canada in 1993. In Canada, I have run several businesses in a variety of industries. Although I experienced success, I missed helping people. I learned from my parents that helping seniors was important to their well-being and of great value to the community. Volunteer work remains a priority in my life. I am a past president of Bnai Brith and serve on many other committees.
Connect via:
LinkedIn