Palliative Care: Helping Senior Cancer Patients Live Better
Posted by Brian Shevel on 25 November 2016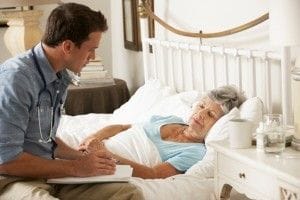 Anyone who has been diagnosed with cancer approaches the illness differently. For those cancer patients who are going through extensive treatments, such as chemotherapy, the impact of those treatments can be exhausting and damaging to the rest of the body and the mind.
It is to help patients deal with the physical and emotional strain of severe illnesses that palliative care exists. Palliative care should not be confused for any kind of cure. Caregivers are there to help ease the burden of the symptoms that are associated with the illnessin this case cancer.
Palliative Care for Cancer Patients at Home
Caregivers are able to offer palliative care for seniors in their homes and are trained to understand how to provide the most comfort for seniors during this period of their lives. They are also sensitive enough to accommodate the array of emotions from seniors with cancer that will surely be changing day by day.
Offering palliative care at home is a benefit because the familiarity of the environment is more welcoming for seniors. Dealing with everything surrounding their cancer treatments is challenging enough, and having to do so away from home only adds to the emotional and psychological strain.
Palliative Care Can Offer Quality of Life
It's important to reiterate that palliative care is in no way a cure for or even a treatment for cancer. The aim of palliative care for cancer patients is improved their quality of life. If caregivers can, in any way, make someone suffering from the effects of cancer treatments feel even a little relief, then it's a blessing.
The Benefits of Palliative Care for People with Cancer
For seniors with cancer, palliative care is particularly beneficial. Here are some of the biggest benefits of palliative care for people with cancer:
The Ability to Complete Treatments
A significant part of palliative care is dealing with the physical symptoms stemming from cancer treatments. This type of care helps give patients the strength to actually finish their treatments which will hopefully extend their lives.
Increased Ability to Perform Daily Activities
One of the biggest challenges of undergoing cancer treatments is managing day-to-day activities. With palliative care, being able to get through these activities and maintain some form of independence is vital to the emotional well-being of seniors.
Increased Connection to Social Support
No one wants to feel alone. Especially when going through something as traumatic as cancer. Palliative care helps to provide a social support system that keeps seniors engaged and stimulated. This type of support is crucial as they get further along in their treatments.
Fewer Hospitalizations
The hope is that with palliative care, seniors will enjoy a more comfortable recovery. This includes having to make fewer trips to the hospital. Fewer trips usually are a reflection of seniors coping well with treatments, which is what we push to offer with palliative care.
Home Care Assistance - Toronto/York Region
understands the sensitive and challenging nature of palliative care. Senior health and elderly care are the foundations of what we practice. Palliative care is just one of the ways we help seniors live fuller, more independent lives while at home.
Not everyone understands the benefits or necessity of palliative care. If you'd like to know more about how palliative care can help someone you know going through cancer treatments, contact us right away at 905-597-5825.

Author:
Brian Shevel
About: I am originally from South Africa from a small city called Bloemfontein. After I completed my education, I went to work with my late-father who had a wholesale business selling clothes and shoes to retail stores around the country. I was in the business till I left for Canada in 1993. In Canada, I have run several businesses in a variety of industries. Although I experienced success, I missed helping people. I learned from my parents that helping seniors was important to their well-being and of great value to the community. Volunteer work remains a priority in my life. I am a past president of Bnai Brith and serve on many other committees.
Connect via:
LinkedIn