Planning the Care for a Patient with Alzheimer's or Dementia
Posted by Brian Shevel on 17 November 2015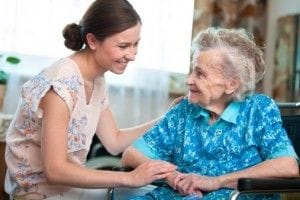 Much was made of the announcement from Statistics Canada that seniors outnumber Canadians under the age of 14 for the first time in the country's history. Among other consequences cited, one that becomes clear is that, barring any major medical breakthrough, much more of the population will be living with Alzheimer's and other forms of dementia.
Dementia already affects over 700,000 Canadians with that number projected to double by 2031. The healthcare system is already struggling to handle the current population of seniors with dementia, so the thought of doubling that figure is somewhat troubling and maybe even alarming.
What Can We Do?
Our healthcare system is already being strained to the tune of over $30 billion a year. With some estimates anticipating that number to skyrocket to nearly $300 billion in the next quarter century, something must be done.
Many families have taken to carrying the weight of caring for their parent, grandparent, or spouse on their own shoulders. But this is no small task. Asking someone to manage a disease that leaves a person cognitively debilitated, unable to do daily tasks, and with a fading memory isn't easy. In fact, many family caregivers experience stress or even depression themselves when put into the role of sole caregiver.
On top of being mentally draining, caring for a loved one with Alzheimer's also impacts the social life and careers of these caregivers. They shift schedules around, have less time for engaging with friends, and have to truly dedicate their time to helping their loved one manage the disease.
But this alone isn't a plan. Having unqualified family members take on that challenge is, in most cases, asking too much. They need help in the form of some kind of nationwide strategy.
Stepping Up Home Care
One of the industries looking to do more is the home care industry. We at Home Care Assistance Toronto/York Region, as well as organizations like us, have taken the initiative to step up and step into these family care situations to provide some assistance and relieve some of the burden. We know that seniors prefer to live in the familiar surroundings of their home, so we want to make that a reality for as long as safely possible.
What we've done at Home Care Assistance is provide Alzheimer's training for our caregivers. We've also provided educational courses and hosted webinars with renowned experts on how to deal with seniors with Alzheimer's and other forms of dementia. We want families and seniors to feel confident in our ability to offer a high level of care.
We know that we cannot solve the entire problem by ourselves, but we can do our part. We recognize we are part of the solution right now and accept that responsibility. Contact us to learn more about our
Alzheimer's care services
and webinars.
Source:
Lowi-Young, M., "Canada Needs a National Dementia Strategy," Huffington Post, November 11, 2015,
www.huffingtonpost.ca/mimi-lowiyoung/canada-national-dementia-strategy_b_8269690.html
.

Author:
Brian Shevel
About: I am originally from South Africa from a small city called Bloemfontein. After I completed my education, I went to work with my late-father who had a wholesale business selling clothes and shoes to retail stores around the country. I was in the business till I left for Canada in 1993. In Canada, I have run several businesses in a variety of industries. Although I experienced success, I missed helping people. I learned from my parents that helping seniors was important to their well-being and of great value to the community. Volunteer work remains a priority in my life. I am a past president of Bnai Brith and serve on many other committees.
Connect via:
LinkedIn