Relief for Caregivers Who Take Care of Alzheimer's Patients
Posted by Brian Shevel on 4 March 2015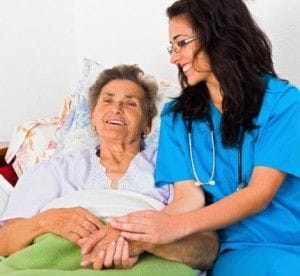 Many caregivers often feel overwhelmed when it comes to taking care of a patient or a loved one with Alzheimer's. The unpredictability of your patient's mood can become difficult to manage, and it's quite possible that as each day (or hour) passes, your loved one will exhibit memory lapses and mood swings. While it may be challenging for caregivers, there are ways to minimize the heavy emotions involved with taking care of Alzheimer's patients.
Alzheimer's Patient Care Not a One-Person Show
Caregivers need to understand that it is not feasible to care for Alzheimer's patients on their own. Apart from the physical duties of changing, bathing, and feeding an elder with this disease, the mental pressures can cause even further strain. It's not unusual for loved ones caring for Alzheimer's patients to experience bouts of depression and anxiety themselves; after all, they are attempting to cope with a new reality - the person they once knew is no longer the same.
Respite care can provide temporary relief for caregivers taking care of Alzheimer's patients and aging loved ones. Experienced and compassionate home caregivers can come in once or twice a week to care for your loved one, giving the primary caregiver a break. Not only does this allow the caregiver to take care of personal errands, but it also provides a psychological break from the day-to-day stress of managing a person with Alzheimer's.
Research and Routine
If as a primary caregiver you've never dealt with nursing someone with Alzheimer's, the notion can be daunting. Gathering as much information as possible about your patients is a good first step to ensuring they receive the best home care. If you need further assistance on how to take care for an Alzheimer's patient, associations and companies specializing in Alzheimer's care may have a complete guide for caregivers.
Once you have established the groundwork for taking care of your patient, start to develop daily routines. Familiarity is important for seniors who suffer from Alzheimer's, so if you can standardize tasks during specific times on a daily basis, it will help both you, as a caregiver, and the patient to get through the day more smoothly.
Find a Good Support System
We've already discussed allowing others to help manage the day-to-day tasks of caring for your Alzheimer's patient, but having a trusted support group can also go a long way to help decrease stress. Bouncing ideas, sharing stories and thoughts, and just having someone to speak with about what you're going through are important aspects to managing your own mental stability during a tough time.
Home Care Assistance - Toronto/York Region specializes in Alzheimer's care, even if you are looking for a last-minute caregiver. We have a specialized Alzheimer's guide and offer our caregivers plenty of resources to develop strategies for proper care.
Visit the Home Care Assistance Toronto/York Region web site today to schedule a free in-home consultation or for more information on our specialty care services, including in-home Alzheimer's care.

Author:
Brian Shevel
About: I am originally from South Africa from a small city called Bloemfontein. After I completed my education, I went to work with my late-father who had a wholesale business selling clothes and shoes to retail stores around the country. I was in the business till I left for Canada in 1993. In Canada, I have run several businesses in a variety of industries. Although I experienced success, I missed helping people. I learned from my parents that helping seniors was important to their well-being and of great value to the community. Volunteer work remains a priority in my life. I am a past president of Bnai Brith and serve on many other committees.
Connect via:
LinkedIn