Safety Tips for Older Adults in Winter
Posted by Brian Shevel on 22 December 2014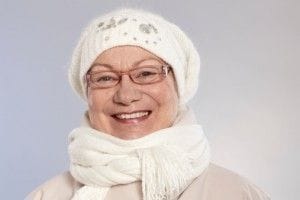 Winter is upon us, making getting around difficult for everyone. But seniors especially have a hard time commuting once the temperature starts to drop and the snow starts to fly. And if an elderly loved one chooses to remain in their home, keeping their driveways and front walks shovelled can be just as much of a challenge as leaving the home. Elderly home care can go a long way to helping them get around and function around the house during this season.
Seniors are prone to falls and, during the winter, the risk increases. Family can help their loved ones get around, but they're also busy with their jobs and families, as well as the holidays; having a senior caregiver can take some of the stress off.
Preventing Hypothermia
Seniors are prone to hypothermia for physical reasons and because they may forget to regulate the heat in their home, so a caregiver or family member can make sure that the thermostat is set at a safe and comfortable temperature. And if the senior is going outside, make sure that they're properly bundled against the cold; this is another way a caregiver can help, by making sure the senior is dressed properly when going outside.
Power Outages
During the winter, high winds, ice, and snow can cause power failures. That is why it is strongly recommended that the elderly be prepared with blankets and flashlights with fresh batteries. Candles aren't recommended for safety reasons, especially for seniors. It is also wise to stock up on non-perishable food items for the senior (and don't forget a manual can opener that's easy to find and use). A caregiver can also make sure that your loved one keeps moving during a power outage and bundles up if it lasts for an extended period of time. Anytime there is a power outage, always check on the seniors in your life, whether you're the primary caregiver or not.
Keeping Driveways and Walkways Clear
Seniors are prone to falls that can result in serious injury, so walkways and driveways should be shovelled and salted immediately following significant snowfalls. This is another reason having an elderly home caregiver or regularly visiting your loved one is recommended. Seniors should also wear footwear that provides adequate traction, especially if snow melts and re-freezes. Also, if it's particularly treacherous out, someone should be available to run all errands for the senior, which will cut down the need for them to walk on icy sidewalks.
Proper Diet
We don't spend as much time outside during the winter, so it's important to find a way to get vitamin D other than through sun exposure. Vitamin D is important for maintaining the immune system and strong, healthy bones. Seniors are prone to having brittle bones, so a diet rich in vitamin D is especially important. Fortified milk, grains, and coldwater fish are all excellent sources.
Getting Out During the Winter
During the winter, it is difficult for seniors to get around, which can lead to feelings of isolation, depression, and loneliness, especially if they're living on their own. Friends and family should visit seniors regularly during the winter, or even call every day. A senior caregiver can provide companionship during this period as well.
Home Safety
During the winter, many people use gas-powered heaters or fireplaces to warm their homes. While these devices are completely safe if used properly, misuse can release carbon monoxide. That is why it is important for homes to have working carbon monoxide detectors. There's also the chance of fire due to misuse or forgetfulness. Both family members and caregivers can make sure that detectors and any heating appliances are in good working condition and can check on the senior regularly to make sure they're safe.
As the leading provider of elderly home care,
Home Care Assistance - Toronto/York Region
has senior care workers who will ensure your loved one's safety during the winter by helping with home maintenance, assisting them with a healthy diet, and driving them around for shopping, appointments, and other errands. Call us today to find out more about our home care programs!

Author:
Brian Shevel
About: I am originally from South Africa from a small city called Bloemfontein. After I completed my education, I went to work with my late-father who had a wholesale business selling clothes and shoes to retail stores around the country. I was in the business till I left for Canada in 1993. In Canada, I have run several businesses in a variety of industries. Although I experienced success, I missed helping people. I learned from my parents that helping seniors was important to their well-being and of great value to the community. Volunteer work remains a priority in my life. I am a past president of Bnai Brith and serve on many other committees.
Connect via:
LinkedIn