Senior Care - 7 Healthy Tips For The Christmas Holidays
Posted by Brian Shevel on 2 December 2016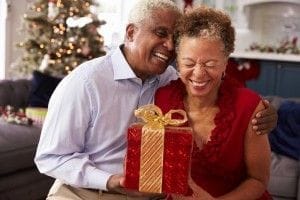 There's probably no other time of year in Canada that just puts people in a good a mood as Christmastime. Parents and seniors are excited at the opportunity to spend the time with family and have a short but welcomed break from the work world.
The holidays are also a time in which to stress the importance of home healthcare for seniors. Elderly loved ones tend to need a bit more attention and require everyone around them to understand what kind of precautions need to be taken to keep them safe. With that said, we want to suggest a few healthy tips for Christmas that puts elderly healthcare first.
Stay Safe and Healthy in Winter
Everyone is dreaming of a white Christmas, but regardless of if there is snow on the ground or not, seniors really need to be aware of winter weather. A lot of senior care for Christmas has to do with travelling and being outdoors. Simple things like keeping driveways and front steps shovelled, wearing the proper clothing, and making sure the heating system in the house is working correctly go a long way to keeping seniors safe.
Make Sure to Get Proper Sleep
Rest is too often overlooked as a means of being healthy. For seniors in particular, getting the right amount of rest plays a bigger role in how much cognitive and physical energy they have throughout the day. There's so much going on over the holidays with families visiting each other, parties, and abnormal amounts of cooking, that it's easy to ignore sleep. For seniors, however, make sure they stay on a regular sleeping pattern.
Get Check-Ups and Vaccinations
We're at that time of year when getting sick is usually an issue. Children and seniors tend to be the most susceptible, so they require the most protection. It's a good idea that seniors have a check-up with their family doctor before the Christmas holidays begin. Being in contact with a lot of people makes them more susceptible to illnesses, so they should also get vaccinated to prevent any illnesses over the holidays.
Handle and Prepare Food Safely
This holiday health tip is for everyone involved with preparing meals this holiday season. It's important that in preparing those meals, you are meticulous in how you both cook and handle the food. You don't want anyone getting sick as a result of your cooking. Seniors, more so than anyone else, can react poorly to ill-prepared food. Keeping cooking stations clean and making sure foods are cooked to their required temperatures are two big ways to prevent any illness.
Eat Healthy and Be Active
We know it's the holidays and that usually means healthy eating goes out the window. With that said, the arrival of the holiday season shouldn't mean seniors can completely abandon their eating habits and exercise routines. Stay as close to the regular routine as possible, making room for those few days that you'll likely take a break to enjoy family and good food.
Follow Dietary Restrictions
The Christmas holidays are not a time to experiment. As seniors, if you know you are allergic to certain foods, then don't eat them. If you are not completely allergic but maybe have a condition such as diabetes, then understand your restrictions and enjoy the meals within those guidelines.
Home Care Assistance - Toronto/York Region
wants everyone to enjoy the holidays. Senior home healthcare means everything to us, so we hope families are able to stay safe while enjoying each other's company.
If you are ever looking for home healthcare advice for your parents or loved ones, don't hesitate to call Home Care Assistance today at 905-597-5825.

Author:
Brian Shevel
About: I am originally from South Africa from a small city called Bloemfontein. After I completed my education, I went to work with my late-father who had a wholesale business selling clothes and shoes to retail stores around the country. I was in the business till I left for Canada in 1993. In Canada, I have run several businesses in a variety of industries. Although I experienced success, I missed helping people. I learned from my parents that helping seniors was important to their well-being and of great value to the community. Volunteer work remains a priority in my life. I am a past president of Bnai Brith and serve on many other committees.
Connect via:
LinkedIn