Senior Care Tips: Why Is It Best For Seniors To Eat Together?
Posted by Brian Shevel on 3 February 2017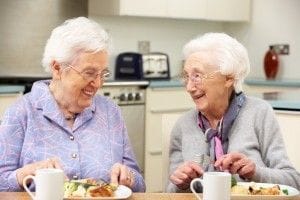 When caring for a senior family member, there can be a lot to remember. From reminding them to take their medications at the right times to ensuring they make it to all of their appointments, sometimes you may forget the smaller stuff, like with whom they eat. Making sure they have a meal companion may seem like an unimportant detail, but social eating can work wonders for mental and physical health. Keep on reading to find out how eating with companions can benefit seniors.
Why Social Eating Is Important for Seniors
Communication
Small talk during dinner may not seem like a big deal to you, but it can make a world of difference to a senior loved one who spends the better part of the day by themselves. When you're at work, and if there's no one home to keep them company, they have no other face-to-face interaction other than at dinnertime.
Having dinner together with your senior family member will give not only them but all family members a chance to communicate with each other and catch up on each other's lives. Your senior family member's diet and nutrition should be supplemented by a healthy does of communication and human interaction each day.
Keep Their Spirits Up
Family dinners for seniors will raise their spirits. Being around those they love and knowing that they matter enough so that you still want to spend time with them will mean more than you could ever imagine. Studies have shown that seniors tend to find their meals more satisfying when they have a companion present. While taste and nutrition is important, seniors have also reported that good conversation is just as important for a healthy, well-rounded diet.
Enjoy Quality Family Time
Family dinners will give you the downtime you need to connect with your senior family member, and you'll be able to really connect with them. Many individuals forego family dinners because of their busy work schedules, but they offer an important opportunity for quality family time that may be overlooked otherwise. Don't pass up the opportunity to sit around the table with your parents or grandparents and listen to some of their storiestheir experiences are invaluable, and you won't be able to hear about them anywhere else. As tough as it can be to admit, your senior family member won't be around forever, so it's important to cherish them while you can.
While it's important for your senior loved ones to spend time with their family, we realize that it can be difficult trying to balance your care taking responsibilities for them, your job, and the rest of your family. Sometimes, you just need little extra hand to make sure they get the care and attention they deserve. That's where Home Care Assistance - Toronto/York Region comes in. We can help you get the peace of mind you need to go about your daily activities without having to constantly worry about the well-being of your senior family member. You can trust our skilled caretakers to provide the best in-home care for your loved one. Contact us today for more information.

Author:
Brian Shevel
About: I am originally from South Africa from a small city called Bloemfontein. After I completed my education, I went to work with my late-father who had a wholesale business selling clothes and shoes to retail stores around the country. I was in the business till I left for Canada in 1993. In Canada, I have run several businesses in a variety of industries. Although I experienced success, I missed helping people. I learned from my parents that helping seniors was important to their well-being and of great value to the community. Volunteer work remains a priority in my life. I am a past president of Bnai Brith and serve on many other committees.
Connect via:
LinkedIn