Signs That a Parent or Loved One May Need Assisted Living
Posted by Brian Shevel on 2 October 2015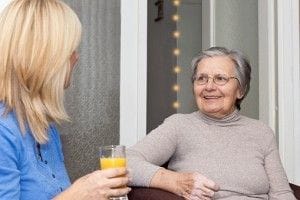 Aging is an unavoidable part of life; we all experience it at different levels. As we grow older, so do our parents or loved ones who we depended on throughout our childhoods. Things start to change a little as we watch our parents age and become seniors. It partially becomes our responsibility to make sure they are functioning well from day-to-day.
Sometimes, however, simple day-to-day tasks can become a bit more difficult and our parents are not able to perform routine duties without some kind of assistance. Whether they admit it or not, they might need some help. And although it may be difficult for them to accept, and even a bit tough for you to come to grips with, getting your aging parents some assistance might be the best option for their own safety and well-being.
What to Watch For
There are several signs that could indicate your parents or loved ones potentially need assisted living. It's important to remember that because you know your parents so well, it's easy to dismiss some of these signals. And although we aren't suggesting you drill your parents every time you see them, we are saying you should be subjective enough to see what's happening and make the right choices:
Memory loss: Somewhere along the line, we've seen this become an accepted part of aging. But memory loss is not a normal part of becoming a senior and should be considered an issue, in particular if the person never had any issues with "bad memory" all their lives. In fact, any kind of significant cognitive decline could be a microcosm of a bigger problem, the worst of which being the onset of some form of dementia.

Difficulty with day-to-day activities: When routine activities, such as showering, moving up and down the house, getting dressed, or running errands outside the home become unmanageable - meaning your parents are no longer able to do these things with little to no effort - then it can mean it's time for a little help. Situations like these are not critical in any way, but getting a bit of help for these day-to-day activities can actually help your parents feel a lot more secure and relieve some of the stress from not being able to get these things done.

Post-surgery or illness: Circumstances which lead to your parents or loved ones returning home after a surgery, an accident, or some kind of illness is a good time to initiate the conversation of assisted living. They will more than likely need help in the short-term, and if other areas of their behaviour were concerning you before, you can address those accordingly.
What we've come to notice after years of being active in the senior community is that it can be exceptionally difficult for seniors to ask for any kind of assistance. It could be pride, possibly some shame, or they may genuinely feel like they don't need assistance. Whatever the case, it's up to you as a source of support, as someone who loves your parents and cares for their well-being, to observe these warning signs and make an effort to come up with some solutions.
Home Care Assistance - Toronto/York Region has been providing home care solutions for seniors within all levels of care. We've helped with everything, such as medication reminders and handling of daily chores, to providing home care services for seniors with Alzheimer's. Our caregivers are well trained and offer continuous educational support throughout various programs we conduct on a regular basis. Most importantly, they recognize they are dealing with real people and are there to facilitate the lifestyle of the seniors - not reduce their independence.
For more information on our home care services,
contact us today.

Author:
Brian Shevel
About: I am originally from South Africa from a small city called Bloemfontein. After I completed my education, I went to work with my late-father who had a wholesale business selling clothes and shoes to retail stores around the country. I was in the business till I left for Canada in 1993. In Canada, I have run several businesses in a variety of industries. Although I experienced success, I missed helping people. I learned from my parents that helping seniors was important to their well-being and of great value to the community. Volunteer work remains a priority in my life. I am a past president of Bnai Brith and serve on many other committees.
Connect via:
LinkedIn