The Benefits Of Companion Care For Seniors
Posted by Brian Shevel on 9 September 2016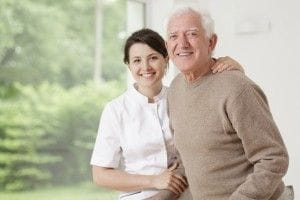 Sometimes, providing in home care for your loved one gets you bogged down in the routines: making sure they take their pills on time, bathing them, making sure they are eating right; these things can quickly begin to feel like a chore and can start to frustrate you. And you never want to get to the point where you feel anything but affection for your loved one.
In reality, though if you don't allow yourself to separate your duty as a caregiver from just being a family member, it's difficult to enjoy the time you're spending together. That is where the true benefit of companion care for seniors comes to light. Companions are there to help your loved one actually enjoy their life and do the things they love.
There are so many benefits to companion care for seniors, but some of the most immediate benefits include:
Relief and Peace of Mind
The peace of mind that comes from employing a companion actually works both ways. When seniors receive home care services, their children and loved ones feel peace of mind knowing that their parents are in good hands. They also feel some relief knowing that they no longer have to be the sole caregivers. The time spent with loved ones can be more relaxed, more meaningful, and can be spent doing activities their loved ones enjoy.
Seniors also get some peace of mind because they no longer have to feel like a burden. Seniors fiercely value their independence; so knowing that they are not putting too much pressure on the people they love most to care for them can be a great relief.
Senior Safety
Because they are more susceptible to injury, safety is always paramount when dealing with seniors. Even in the home, there are things that need to be arranged to prevent possible injuries, and that is one of the major roles of companion care providers. Caregivers are able to use their training and knowledge to keep seniors safe while they're in the home.
Communication
Something that seniors appreciate so much is having someone to talk to. If they no longer have a life partner, many of their days are spent alone. One of the offerings of companion care is to be there to have conversations with senior citizens, including sitting and talking over a game of cards or a cup of tea; caregivers offer their time to give seniors the cognitive stimulation they need.
Home Care Assistance - Toronto/York Region understands the impact companion care can have on the lives of seniors. The in-home care we offer enriches the lives of seniors and benefits their families in so many ways.
If you are caring for a senior loved one on your own, contact Home Care Assistance Toronto/York Region now at
905-597-5825
.

Author:
Brian Shevel
About: I am originally from South Africa from a small city called Bloemfontein. After I completed my education, I went to work with my late-father who had a wholesale business selling clothes and shoes to retail stores around the country. I was in the business till I left for Canada in 1993. In Canada, I have run several businesses in a variety of industries. Although I experienced success, I missed helping people. I learned from my parents that helping seniors was important to their well-being and of great value to the community. Volunteer work remains a priority in my life. I am a past president of Bnai Brith and serve on many other committees.
Connect via:
LinkedIn