The Caregiver's Role In Parkinson'd Disease Treatment Care
Posted by Brian Shevel on 28 July 2016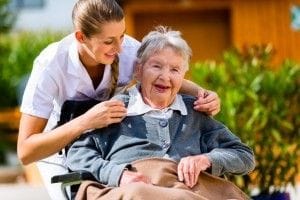 One of the difficulties of Parkinson's homecare is that the disease is progressive. The symptoms of this disease slowly begin to manifest more and more and that means as a caregiver, you need to be able to manage the changes. Dealing with those changes means making adjustments as a caregiver and also making physical adjustments to the home so the individual with Parkinson's is able to function at as high a level as possible.
Caregivers for Seniors with Parkinson's Disease
It takes a good deal of attention to care for a senior with Parkinson's. Ideally, it would be best if everyone close to this person could take on some responsibility. Going on doctor's visits and helping to establish routines are the types of activities that take a degree of cooperation and coordination. Parkinson's affects both physical and cognitive functions. Therefore, making adjustments to the home and creating some type of cohesive routine are important ways of helping seniors better manage their days with Parkinson's.
Monitoring Parkinson's Medication: A significant aspect of Parkinson's homecare is assisting seniors with taking their medication. It seems like a simple task, but seniors with Parkinson's may need reminders and they may even need someone to help them take the medication.

Physical Care: Seniors with Parkinson's struggle physically to do routine activities. Sometimes they even freeze, which means they feel as if they are stuck and can't move. Daily massages can help prevent freezing, and they also loosen up the muscles of Parkinson's sufferers, combating the spasms and tremors that come with this disease. A caregiver can also encourage seniors to squeeze a rubber ball and do whatever exercises are manageable.
What to Watch For
When assisting with Parkinson's homecare, there are a couple of things you should look out for:
Any Increase in Symptoms: You need to be able to identify the subtle changes in physical and cognitive abilities. Report these changes to the senior's physician so they are aware and can make any adjustments to treatments as needed.

Sleep Problems: Trouble sleeping is another problematic side effect of Parkinson's. If you notice the senior you are caring for is experiencing difficulties sleeping, then this is also something you should report to the physician.
Home Care Assistance - Toronto/York Region offers Parkinson's homecare in Toronto. We have an amazing team of caregivers who are trained, skilled, and ready to assist those seniors in our area who are suffering from this condition. If you have any questions at all about Parkinson's care, don't hesitate to contact us now. We'll provide you with the best advice possible.

Author:
Brian Shevel
About: I was born in South Africa in a city called Bloemfontein. Went to Christian Brothers College (CBC) finished High school there. I went into business with my father we had a wholesale selling cloths and shoes to retail stores around the country. I was in the business till I left for Canada in 1993. Was a past president of Bnai Brith and served on many other committees. In Canada worked in the computer software industry selling construction software. I was always involved helping the elderly as my mother was very involved and I went along with her. Also looked after my father as he aged. Helped as a volunteer with seniors.
Connect via: