The Importance of Respite Care
Posted by Brian Shevel on 3 July 2015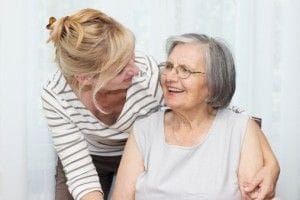 It can be challenging, and at times overwhelming, to care for an elderly loved one in need of daily attention. The emotional drain, the physical and psychological demand and the time commitment are all factors that contribute to the challenges of elderly care. In fact, attempting to care for an elderly loved one without any support can be detrimental to your health. Caregiver respite should be an essential part of any home care strategy - both for the primary caregiver and for the one being cared for.
Assistance with handling the day-to-day care of an elderly loved one can go a long way in helping to ease some of the pressures that come with being a primary caregiver.
Step Away to Maintain Balance
When someone in your family becomes terminally ill or dependent on others for daily care, it can seem like the entire world revolves around their health. And of course their well-being becomes priority, but you still need to be able to continue with your own day-to-day life: Work, your personal relationships, your social life - all of these in some way become compromised when taking on the responsibility of a primary caregiver. In order to maintain your own health, you must be able to control the extent of which your entire life is affected. Respite care is one way of ensuring you maintain balance.
Taking on primary caregiving duties all on your own can easily lead to feelings of isolation, exhaustion, and even depression. Finding the right balance is crucial to your own health as a caregiver. That can be achieved through first determining what kind of respite care you need and then creating a schedule that suits those needs.
Determining Respite Care Needs
Caregivers typically need respite care for one of two reasons (or even both):
They need support in providing care for their loved one
They need time away so they can rejuvenate and balance their personal lives
Whatever the situation, having the option of extra support when needed is always a worthwhile opportunity. Once you determine what type of respite care you need, you can set a schedule that will coordinate that support.
Setting a schedule is necessary because it helps add to the balance that is essential to your life. It also benefits the family member you are caring for because it helps them become accustomed to a routine. They can anticipate when you will be away so it won't come as a surprise, and mentally prepare themselves for that day when you will be absent.
Once a schedule is set, control begins to seep back into your life. You don't need to feel any guilt - respite care is based on adding support, not replacing you as a caregiver. Your loved one still gets the critical care they need on a daily basis, and you get the relief you need to attend to ongoing matters in your own life.
Home Care Assistance - Toronto/York Region offers respite care to families in our communities. Our caregivers understand the needs of your loved ones, and will recognize your needs as a primary caregiver. Contact Home Care Assistance - Toronto/York Region today for more information on our respite care services and home care assistance.

Author:
Brian Shevel
About: I am originally from South Africa from a small city called Bloemfontein. After I completed my education, I went to work with my late-father who had a wholesale business selling clothes and shoes to retail stores around the country. I was in the business till I left for Canada in 1993. In Canada, I have run several businesses in a variety of industries. Although I experienced success, I missed helping people. I learned from my parents that helping seniors was important to their well-being and of great value to the community. Volunteer work remains a priority in my life. I am a past president of Bnai Brith and serve on many other committees.
Connect via:
LinkedIn